Like
Hormones Matter received an email from a mother of a 10-year-old girl. The medical history that she wrote is so complex that it is hardly surprising that it has confounded all of the physicians that have been consulted. I decided that it was so typical of many "mysterious" illnesses in America, that I would write it as a post. The story depicts the kind of chaos that can result in the body when the underlying cause is from energy deficiency in the brain. Modern physicians are blinded by the overall concept that vitamin deficiency disease has been conquered and remains only of historical interest. Also, the trouble lies in the fact that the present medical model (the general acceptance of how diseases present) is in error. Each disease is thought to be compartmentalized, has a specific kind of course, a specific cause and an individual kind of treatment. A revision of this model, entitled "The Three Circles of Health" is envisioned as three interlocking circles named Genetics, Stress and Energy, derived from Boolean algebra. I will try to explain how the three circles apply to the story of this 10-year-old child after I have described it in this post.
Medical History
The email began by saying "after a lifetime of various health issues and mystery symptoms, she became extremely ill in March of this year following a flu-like illness, developing a myriad of symptoms including: syncope, tachycardia, seizure -like episodes, and severe peripheral vision loss. She was eventually diagnosed with POTS". During the febrile illness she had been given sugar containing drinks that would compound the thiamine deficiency.
Syncope. This is the scientific word used for brief fainting spells. The patient may be unconscious for only a few seconds and returns to a state of normality after recovery. It is common in patients with dysautonomia, because it is the symptomatic exposure of either genetic risk, poor nutrition, or a combination of both.
Tachycardia. This is the fancy word for a rapidly beating heart. It is caused by an overdrive in the sympathetic branch of the autonomic nervous system, a classic sign of dysautonomia.
Seizure like episodes. This is due to the fact that the brain is starved of oxygen or oxidation (cellular consumption of oxygen). Unfortunately, this is not the current thinking in the treatment of seizures, where a search for the "right medication" is the approach. This is particularly true in children.
Severe peripheral vision loss. This is also due to oxidation starvation of either the nervous mechanism in the eye or its channels of communication with the brain.
The March illness. The problem here is that her immune mechanism was also starved of oxidation and became much less efficient. Instead of having a cold or a mild viral illness, the virus became a source of much greater stress to an energy deprived system. The fault lies in the lack of defense rather than the virulence of the attacking organism. This may also explain the recent news of an epidemic of a "polio-like" illness due to a virus that usually results in mild disease. Brain energy deficiency in Americans is common because of the ingestion of sugar that results in thiamine deficiency and pseudo (false) hypoxia (lack of oxygen). Oxidation fails without thiamine.
POTS. This stands for Postural Orthostatic Tachycardia Syndrome. This means that the patient develops a rapid heartbeat while standing quietly and is often associated with syncope. It has been reported in the medical literature as a phenomenon due to thiamine deficiency. Oxidative inefficiency, the central issue, can of course be due to causes other than thiamine deficiency. However, the common ingestion of sugar makes thiamine deficiency the most likely culprit.
Ehlers Danlos Syndrome. The email goes on to say that her doctor thinks that she has this syndrome because she is evidently unusually hypermobile. This is a genetically determined condition involving abnormality of connective tissue in the body and allowing hypermobility. It has long been associated with dysautonomia and it is entirely possible that oxidative inefficiency has a role, particularly as it has been associated with Chronic Fatigue Syndrome, now known to be an energy deficient disease.
Lack of appetite, food allergy: extreme sugar craving: eosinophilic enteritis. All of these symptoms were experienced by a 14 year old boy. His medical history for the first eight years of life had been classified as psychosomatic, when eosinophilic esophagitis had been discovered. Conventional treatment for esophagitis had failed and at the age of 14 years he was found to be severely thiamine deficient. Many symptoms were resolved with a prolonged use of a thiamine derivative. Complete resolution may have occurred if he had discontinued ingestion of sugar.
Inexplicable elevated B12 levels. Curiously enough, elevated levels of vitamin B12 and folate have been found in a case report to be related to thiamine deficiency.
Tenderness in calf muscles. This is a classic sign in beriberi, long known to be caused by thiamine deficiency. Only gentle manual squeezing is necessary to elicit tenderness.
Extensive history of alcoholism on both sides of the family. There is a genetic relationship in sugar addiction and a familial history of alcohol dependence. Both alcohol and sugar precipitate thiamine deficiency that is very destructive to that part of the brain that controls the autonomic nervous system.
Joint pain, all-over pain, chronic GI pain. All typical of brain hypoxia (lack of oxygen) or pseudo-hypoxia (lack of oxidation). It is important to note that the body does not feel pain. It is the result of a "notification" signal to the brain from the involved body part. Pain can also originate in the sensory perceiving brain mechanisms and deceive us by telling us that "that pain is coming from your (e.g.) left elbow". Not surprisingly, examination of the elbow finds no evidence of a cause. Because of this misunderstanding a patient might easily give rise to an observer's, (perhaps a physician) conclusion that the pain is neurotically imagined.
The Three Circles of Health
The idea is taken from an oversimplification of Boolean algebra. Three rings are seen as overlapping each other, with all meeting in the middle. The area of each circle and the area of overlap each represent the individual contribution to the overall clinical expression of disease.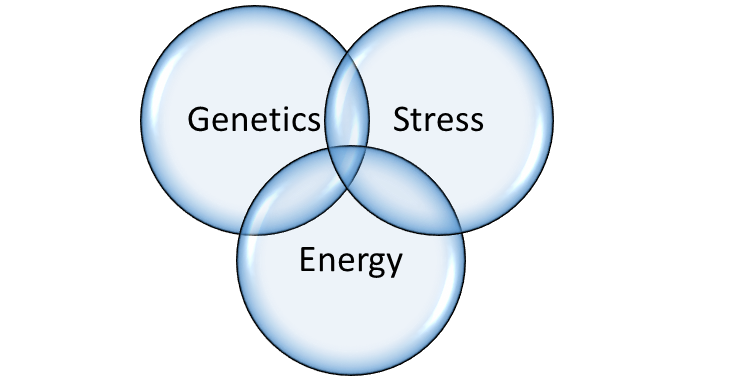 Genetics
We all know of course that each of us has a "blueprint" inherited from our parents that dictates who we are and in most cases whether we are male or female. We also know that there can be distortions in the DNA code used to create our genes. These can be responsible for inherited disease.
Stress
I have placed a detailed post about stress on Hormones Matter. It must always be considered as an agent that attacks our status quo, whether this be a mental or a physical phenomenon. Energy is required for all the methods by which the body defends itself and adapts. This means that stress can be exhilarating or damaging according to the state of defense and the degree of aggressiveness expressed in the stress. Failure to adapt comes from the lack of energy and is what we refer to as illness.
Energy
This is a stumbling block for many people, even for some physicians who imagine that the brain can work perfectly normally, in spite of energy deficiency. Thus the complaints of the patient are often written off as psychosomatic, without considering the underlying cause. Every mental and physical action requires its quota of energy and thiamine deficiency is a very common source of energy failure. Because the mechanism is mainly in brain, the symptoms are an exhibit of its lack of normal function. We must always understand that the energy can only be produced from food that must contain both fuel (glucose) and the complex chemical substances that enable its use. Herein, lies a common error that consuming sugar will increase energy. The processing of glucose in the body is an extremely complex proposition and it cannot be bypassed by overloading it with sugar. The excess sugar overwhelms cellular oxidative capacity in much the same way as an excess of gasoline causes a choked engine.
The energy circle is now known to be able to influence genetics. This is a new science called epigenetics. It is the study of how nutrition and lifestyle influence the functions of our genes. Instead of saying "we are what we eat", we must extend it to say "we behave according to what we eat". If this is the underlying truth, we have to recognize that the incredible violence exhibited in America may be a reflection of dietary chaos in many cases.
Evolution Requires Energy
I came across an addition of National Geographic dated February 2016. An article entitled "Seeing the Light" by Ed Yong describes the evolutionary development of the eye in the animal kingdom. The article states that some small freshwater fish swam into several deep caves. Because the eyes were of little use, their descendants evolved into populations of blind fish.
"Squandering energy on a useless sensory system is a recipe for extinction."
I have added this section to point out that energy is the mainspring of life. We have to understand this fact and incorporate its use and abuse into our thinking about health and disease.
We Need Your Help
More people than ever are reading Hormones Matter, a testament to the need for independent voices in health and medicine. We are not funded and accept limited advertising. Unlike many health sites, we don't force you to purchase a subscription. We believe health information should be open to all. If you read Hormones Matter, like it, please help support it. Contribute now.