Like
My health issues began 10 years ago, after a holiday Turkey. I was 29 and had just experienced a relationship break up. At the time I was eating bad food and drinking lots of alcohol. On the last night, we went to a different hotel. After visiting the mud baths, we were starving and ventured to a food vendor outside. This was a mistake. On the second day home, I didn't feel well and had developed a very bad urinary tract infection. The infection had cleared but then at about two weeks, I developed a weird scratching feeling under my right rib. When the pain worsened, I saw doctor. I said that I had just returned from holiday and so he ran some general blood tests, but found nothing.
The pain continued to worsen and I struggled to eat. It felt like I had gas in my upper intestine and it's pushing on my vagus nerve and diaphragm so I can't breathe. Then, due to low acid, nothing can leave my stomach. I was sent for an endoscopy and colonoscopy. These two came back negative. The doctor said I was depressed, as I was now down 8 stone, and that I had IBS.
During this time, I was nauseous and became anxious for no reason. My vision was blurry and I felt like the food I ate wasn't digesting. I was becoming so ill, that I could not function, so I left my job and returned to my parents' house. The doctor there put me on Zoloft. Within a few weeks, I slowly managed to eat. Within two months, I was back to normal but would get these massive flares up now and again. I would become nauseous develop severe anxiety for a day, but then it would then pass. I noticed even though I went to the toilet I would never pass gas, but didn't think much of it.
As I felt better, I stopped Zoloft. Within three months the pain was back, but I could still eat. This time the Zoloft didn't work. My friend had tramadol and that was the only thing that stopped the pain. So the GP then gave me tramadol.
I was on tramadol for 4 years. I couldn't drink alcohol, as this made it worse. I continued to have tests and the pain was still bad. I had MRI with secretin that showed pancreatic divisum, a congenital condition where the ducts have not fused but doctor didn't feel it was the problem. Maybe he was wrong. Pancreatic divisums are associated chronic pancreatitis, which is in turn is associated with gastroparesis and upper bowel dysmotility, both of which I had. I also went to a pain clinic, but nothing worked. I had a gallbladder function test and CT scan, and again, everything was fine. Nothing showed up anywhere.
Gallbladder Removal, Metronidazole, and My Continuing Decline
In 2017, the decision was made to remove my gallbladder. I was told it might not help, but I felt I had no other option and so out it came. I had cholestasis but no stones. The doctor commented that I was constipated all the way round my colon and thought that might be the issue. I was okay for a few weeks and then things turned bad. I can no longer digest fats. Attempting to eat any fat gives me agony. I get cramping in my bowel.
After my gallbladder was removed, I couldn't eat due to the pain. I decided to see a nutritionist and had a stool test. The test showed Klebsiella, a few other nasties, and candida. I was put on grapefruit seed extract and Uva Ursi. I started passing foul smelling gas and a lot of stool was coming out. I began to improve. I felt hungry again and began eating the rainbow, as they say. I told the nutritionist that I felt better on the grapefruit seed extract and was told begin taking it every day. This was too much and it led to increased bowel cramps and then vomiting. Every time I took the herb, I would get nauseous and vomit. She told me to stop and take probiotics. This too made me feel worse. I now could not tolerate anything. She gave up told me to go to a doctor.
So I went to a doctor and she gave me metronidazole (Flagyl). I took it. It was awful. The anxiety was terrible and the pain was insane. When I finally stopped, I was in agony whenever I ate, so I took some marshmallow root and slippery elm. This seemed to help a lot. For one week, I could eat. By the end of the week though, I was awful and back to not being able to eat or go to the toilet.
I would get electric shocks and jolts in my sleep to sounds and noises. I had intense nausea and pain and could only tolerate liquid sugary drinks. I finally got a referral to a gastrointestinal specialist. She agreed to do gastric emptying study. I have severe gastroparesis to solids and liquids and was given Domperidone. I took some probiotics and stayed on a soup diet. This helped for 4 weeks but then it all fell apart again and I was back to the point of needing a feeding tube.
I had a nasal jejunum (NJ) tube in the intestine in 2018. This made me worse and the pain in my gut was insane. I also had a foggy brain and experienced body jolts. They gave me a lot laxatives. I was left in this state for a year until my weight dropped to 42 kg. At that point, I was put on total parenteral nutrition (TPN), with a central line that sends nutrients directly to the bloodstream.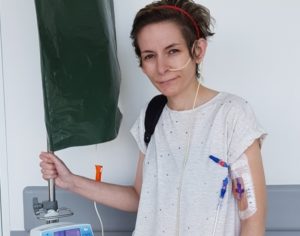 At this point, I did find a functional doctor, who was pretty sure I had SIBO. So just before TPN, we tried Rifaxamin and metronidazole. I only lasted two days. I felt so drugged. I didn't feel better until I stopped. Then I felt ok for a few days but that was it.
On TPN, I gained some weight but still felt drugged. A few months later, I got a line infection, developed sepsis, and again in April. I also had a fungal infection, and was given high doses of antifungals by IV. I actually felt a bit better on this. I was craving chocolate, crisps. I wasn't hungry but just wanted crap food.
Unexpected Pregnancy
I went back to my parents. I was with my partner and I was very ill now. After a month, my bloods were all over the place I didn't feel right. Then in the August 2020, I picked up. I was very tired, but I felt a little happier. Then I started getting a bulge in the bottom of my gut. The doctor sent me to hospital. The next day was a shock. I was pregnant. With twins!
We decided to go ahead as I was already 20 weeks pregnant and this was my only chance of having children. When I hit the 3rd trimester my gut was gurgling. Gas came out and I could taste food but still couldn't swallow as I would fall in to a coma type sleep.
I had the children by caesarean section. Afterwards, my body was just pouring out orange bile in the toilet. I was in agony. A few days later, I got Covid. I experienced no real symptoms, but my liver enzyme was over 400. Disaster struck again few weeks later when I developed sepsis again, and then again, a few weeks later. Both times I was treated with antibiotics, however the second time I went in to anaphylaxis.
Since pregnancy, my symptoms have worsened with increased anxiety and heart palpitations, especially in the morning. I still cannot eat or drink, as I fall in to my coma sleep. Every night I'm sweating and getting horrendous nightmares.
Treatments and Tests
Below are things I've tried and tests I have taken.
Alternative Treatments
Acupuncture – I pass out in my coma sleep after, have horrible nightmare and feel terribly anxious.
Cognitive behavioral and eye movement desensitization and reprocessing therapy
Visceral massage – Calmed me a little but the gas just got stuck and wouldn't come out.
Hypnotherapy
Reiki
Chinese herbs again pass out asleep
Medications and Supplements
I currently take 2 mgs Motegrity but need an enema to get just gas out. But now it's just passing through as water
Magnesium threonate. This helps with the anxiety
Ginger
Any herbs or supplements and I'm passing out asleep. It's like my body can't cope with processing it and shuts down.
Tests
Oats – shows high arabinose aspergillus, candida (I have pityriasis versicolor all over my body – a skin yeast infection) and low, B12, B2, B6. Again, I pass out or react with massive anxiety feeling when I take supplements
High oxalates
Methylation test shows that I slightly over-methylate.
B1 checked normal
Genova stool test: massive dysbiosis with high Bacteroides, Klebsiella candida, a few other really bad bacteria and hardly any good bacteria
Armin Labs Test
Low cd57 – it was 8
Coxsackie virus
Echo virus
Previous Epstein Barr virus not current
As I mentioned, I am on TPN. The ingredients of my nutrient packs are below.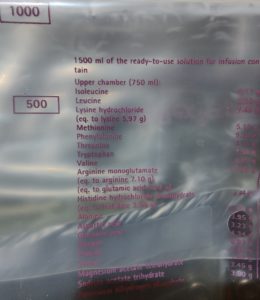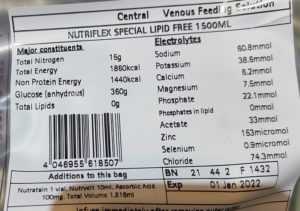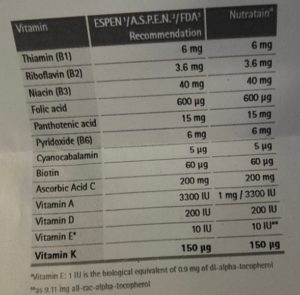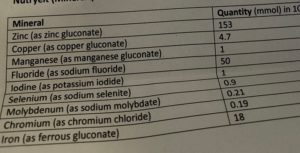 The doctors have run out of ideas and so I am publishing my story here in the hope that someone out there will be able to help. Any suggestions on how to resolve these issues are appreciated. Thank you.
We Need Your Help
More people than ever are reading Hormones Matter, a testament to the need for independent voices in health and medicine. We are not funded and accept limited advertising. Unlike many health sites, we don't force you to purchase a subscription. We believe health information should be open to all. If you read Hormones Matter, like it, please help support it. Contribute now.
Yes, I would like to support Hormones Matter.