Like
This is the story of my wife's decline in health following the surgical reconstruction of a torn left hip labrum. I am writing this for my wife because her health has declined so significantly over the past 5 years that she has become medically homebound and bedridden. She is too weak and unbalanced to walk, has become intolerant to light, to foods (she can only eat 10 different foods without having a reaction), to smells, and is in constant and extreme pain. She has also developed severe skin reactions that are destroying her lower extremities. After seeing more than 50 doctors with little to offer, we are posting her story here in the hope that someone will be able to help.
Post-surgical Development of Complex Regional Pain Syndrome
Megan is a 44 year old female who was athletic, very active, and physically fit her whole life. Prior to left hip labral reconstruction on 6/20/2017, Megan did not take a single prescription. She led a very healthy lifestyle, in which she enjoyed playing tennis, doing yoga, swimming, biking, snowboarding, running, hiking, camping, and backpacking regularly. Postoperatively, she developed left foot edema, redness, allodynia, hyperalgesia, diminished proprioception, and balance, and burning pain in her left foot. Despite diligently participating in physical therapy 3 times weekly, she was not able to fade off of her crutches. She continued to have severe lower extremity pain and was diagnosed with Complex Reginal Pain Syndrome (CRPS) on 11/1/2017. In December 2017, Megan participated in an FDA-approved clinical trial of neridronic acid (bisphosphonate) infusions for CRPS without relief. She developed flu-like symptoms, which got progressively worse after each infusion, but eventually resolved.
Skin Manifestations
By January 2018, Megan started to develop lesions on her left foot. Initially, they were pinpoint to large flat lesions. Some of them were extremely itchy. Overtime, the lesions and rash spread up her ankle and shin on her left leg.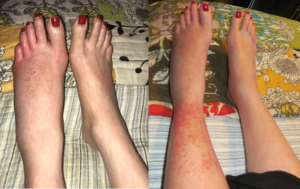 Over the next several months, while still attending physical therapy, Megan noted a lack of hair growth on her lower left leg, temperature discrepancies, in which the left foot was subjectively hot but objectively cooler than the right foot, blood pooling, and skin discoloration in her feet (dark red/purple) when standing, nail changes, and bilateral lower leg flushing following a warm shower. During this time, food sensitivities were also first observed – initially with beef and shrimp.
More Diagnoses But Little Help
In October 2018, Megan was evaluated by a physician at Brown Medical School, who is an expert with CRPS. He confirmed the diagnosis of CRPS (bilateral lower extremities) and in his provisional assessment of Megan, also diagnosed her with bilateral common peroneal neuralgia and bilateral foot drop. He also suspected Megan has mast cell activation syndrome (MCAS), orthostatic intolerance/dysautonomia (POTS), and hypermobile type Ehlers-Danlos Syndrome (hEDS) and was able to delineate which symptoms were consistent with CRPS and which were not. He did not attribute the blood pooling, the footdrop, flushing, lesions, rash, food intolerances and allergic-like reactions, dermographia, and other skin manifestations to CRPS. He recommended she be evaluated by another physician at the Steadman Clinic to assess for common peroneal nerve entrapment.
In October 2018, the Steadman doctor concluded that Megan did not have a common peroneal nerve entrapment. Instead, he noted irritations in the saphenous and obturator nerve distributions and diagnosed her with "bad luck". He recommended Megan have an MRI of her lower back to ensure there is no central based pathology contributing to her bilateral symptoms. A lumbar MRI was conducted, which yielded no significant results.
Catastrophic Progression of Symptoms
All symptoms started after an orthopedic surgery on the left hip. Prior to the surgery on June 20th, 2017, there is no significant medical history. She had a clean bill of health prior to surgery – no prescriptions were taken, no known allergies. In April 2018, we learned the hospital that performed the surgery was not properly sterilizing the surgical instruments and operating rooms between surgeries, which resulted in numerous infections, injuries, and illnesses, per an investigation.
New symptoms, which have appeared in the last 24-36 months include: heavy sweating, bladder incontinence (especially after eating and some while sleeping), sudden urge to urinate, sudden urge to drink water, decreased vision, extremely dizzy, and feeling lightheaded when standing. Brain fog has been getting progressively worse. Food reactions and extreme sensitivity to stimuli have been getting progressively worse and more frequent. Menstrual cycles have been getting progressively worse – worst symptoms and highest pain are observed during the cycle. Food reactivity is more likely and worse while menstruating.
Current treatment approaches have not resulted in any lasting or significant improvement. Despite intervention, symptoms have gotten progressively worse. Megan has been medically homebound since 2019.
Large patches of skin peel, turn white, and flake off ankles, shins, and legs below the knees. Clusters of tiny "pin prick" lesions appear on tops of both feet and on legs, including thighs. There is a lace-like pattern of purple/brownish skin discoloration above the knees (Livedo Reticularis), which continues up the thighs. The lesions, rash, and discoloration have been progressing up both legs. Skin/tissue on feet appear purple, blue, red, pink, orange, discolored, and shiny in places. There is no hair growth on both legs below the knees. Toenails on both feet are thick, crumbly, extremely brittle, and yellowish/brown. There is little to no growth of toenails.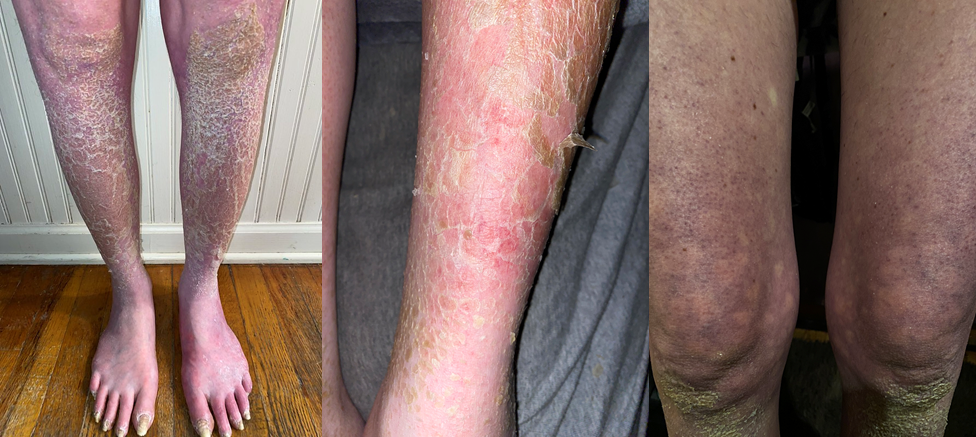 Feet and legs appear less reddish and flushed when elevated, however, they quickly turn purple upon standing. The purple discoloration fades when feet are elevated. Flushing is also present after showering and with temperature changes. Edema is present in both feet, ankles, shins, calves, and knees. An extremely painful, deep "itch" is felt in both feet and lower legs. Tremors are present throughout both legs. Standing upright elicits dizziness, tachycardia, presyncope/syncope, heart palpitations, and blurry vision (especially after eating).
Bilateral footdrop is present without a known cause. As a result, walking is exceedingly difficult, and assistance is required to move throughout the house. Balance, motor planning, proprioception, coordination, and gait have all been dramatically impacted. A wheelchair/transport chair is currently being utilized for community access.
Excruciating 9/10 pain in feet and lower legs. Hyperalgesia and allodynia observed. Socks, shoes, and any other clothing/materials are no longer tolerated below the knees due to pain. Severe 8/10 "deep bone pain" in lower legs and shins. Severe 8/10 joint pain in shoulders, hips, knees, hands, fingers, ankles, and wrists. Muscle spasms and tremors (lower back/body), stiffness, and weakness in legs and arms. It is now difficult to type and to write due to pain in wrists, hands, and fingers. Lights, sounds, touch, and weather/pressure changes cause significant 7/10 pain.
Diet is currently limited to about 10 foods (has decreased over time) due to allergic-like reactions that occur immediately after and while eating foods. The severe reactions have resulted in 3 trips to the emergency room. Foods frequently cause swelling to the face, eyes, and lips, dizziness, nausea, excessive eye dripping and tearing, excessive post-nasal drip, and an extremely painful deep itch with a rash and "pinpoint" lesions to appear on legs and feet. Eating also evokes sweating, extreme fatigue, and tachycardia. Only fresh food is consumed. Leftovers are frozen immediately. The family has not been able to cook inside for over 3 years due to serious respiratory distress, reactions, and irritations to eyes, ears, and throat caused by smoke, scents, and odors. In addition to scents, there is an extremely heightened sensitivity to light and sound. Socks, shoes, and any other clothing/materials are no longer tolerated below the knees.
Nutrient Deficiencies
Over the last year, we have learned that Megan suffers from several nutrient deficiencies, including thiamine, which was measured at only <6 nmols/L in December. After stumbling upon a case story about thiamine deficiency here, it is difficult not to wonder if low thiamine was responsible for her rapid decline in health following the surgery. Many of the symptoms she developed immediately following the surgery, the muscle weakness, edema, foot drop, proprioceptive difficulties are indicative of low thiamine. Over time, she developed an intolerance to most foods, which, from what I understand, is also common with thiamine deficiency. This then spiraled into other sensitivities (light, sound, and scent, etc.) and other sets of bizarre symptoms. In fact, as I do the research, I am learning that many of her 'diagnoses' are not independent diseases but could actually be manifestations of the low thiamine.
Of course, as her health declined and her ability to safely tolerate foods also declined, other deficiencies likely came into play. The skin issues may be related to deficiencies in vitamin A, which we have tested, and vitamins D and K, which we have not yet tested. She is also severely deficient in vitamins B12, C, and has low iron, copper, and zinc. Each of these can contribute to a wide variety of symptoms and compound her already poor health.
Copper Deficiency 2/16/22
Ferritin Deficiency 3/8/22, 8/12/22
Zinc Deficiency 8/12/22
Vitamin C Deficiency 8/12/22
Vitamin A (Retinal) Deficiency 12/9/2022
Vitamin B1 (Thiamine) Deficiency 12/9/2022
Vitamin B12 (Cobalamin) Deficiency 12/9/2022
Current Symptoms
General: heavy fatigue, migraines, low-grade fever, flushing, swollen lymph nodes, night waking, early waking, difficulty falling asleep, and daytime sleepiness
Eyes: droopy eye lids, blurry vision, eye dripping, and excessive tearing
Ears/Nose/Throat: hoarseness, stuffiness, sore throat, postnasal drip, heightened sense of smell, sinus pressure, ear ringing and buzzing, headache, migraines, sensitivity to loud noises, sores/ulcers on the roof of mouth and tongue, swelling of face/lips/throat, and lips/throat feeling "tingly"
Heart: tachycardia, palpitations, swollen ankles/feet, edema, and blood "pooling" in legs
Respiratory: shortness of breath/breathlessness, coughing, and wheezing
Gastrointestinal Tract: bloating, cramping, acid reflux, alternating diarrhea and constipation, excess flatulence/gas, indigestion, nausea, and poor appetite
Urinary Tract: the sudden urge to urinate, and mild bladder leakage/incontinence
Musculoskeletal: muscle spasms, tremors, cramps, joint pain, joint stiffness, and muscle weakness
Skin: rashes, hives/welts, hair loss, itching, swelling, skin peeling and flaking, livedo reticularis, excessive sweating, "pinpoint" lesions, flat-reddish lesions, and dermatographia
Endocrine: cold intolerance, heat intolerance, urge to drink water, abnormally heavy/difficult menstrual periods, chills, and shaking
Neurology: difficulty concentrating, difficulty thinking, difficulty balancing, brain fog, dizziness, light-headedness, tingling, and tremors
Previous Medical History
Infected with Epstein-Barr/mononucleosis: 1993
Pityriasis Rosea in 2011
Infected with antibiotic resistant strep throat in 2012
Left hip labral tear in 2016
Right hip labral tear in 2016
Erythema ab igne (due to heating pad) in 2017
Left hip arthroscopy on 6/20/2017

Femoral osteoplasty
Mild acetabular rim trimming
Minor shaving chondroplasty
Acetabular labral reconstruction – transplanted labrum made from 11cm graft (cadaver tissue)
Capsular closure
Arthroscopic greater trochanteric bursectomy
Windowing of IT band
PRP injection

FDA Clinical Trial of Neridronic Acid for CRPS 12/2017
Current Diagnoses
Right hip labral tear, FAI/CAM Impingement, Bursitis, 2016
Complex Regional Pain Syndrome (CRPS) 11/1/2017
Suspected Ehlers-Danlos Hypermobile Type (hEDS) 10/1/2018
Suspected Histamine Intolerance/Mast Cell Activation Syndrome (MCAS) 10/1/2018
Bilateral Footdrop 10/1/2018
Bilateral Common Perineal Neuralgia 10/1/2018
Orthostatic Intolerance/Dysautonomia (POTS) 10/1/2018
Alternaria Alternata allergy 11/13/19
Secondary Polycythemia 1/5/2020
Hashimoto's Thyroiditis 9/14/2021
Tinea Pedis Onychomycosis 12/2/2021 (misdiagnosed and overlooked for at least 2 years)
Elevated Leukotriene 2/16/22
Dysautonomia/Postural Orthostatic Tachycardia Syndrome (POTS) 9/6/2022
Current Medications
(updated 1/15/23)
Morning

(Before breakfast)

Evening

(Before dinner)

Late Evening

(Before bed)

Naltrexone (LDN) 4.5 mg
Vitamin C 1000 mg
Metoprolol 12.5 mg
Singulair (Montelukast) 10 mg
Zinc (sulfate) 25 mg
Neurontin (Gabapentin) 300 mg
Aspirin (NSAID) 81 mg
Copper 2 mg
Vitamin B1 (Thiamine) 100 mg*
Tagamet (Cimetidine) 200 mg
Iron 50 mg
Topical Terbinafine Cream (PRN)
Zrytec (Cetirizine) 10 mg
Tagamet (Cimetidine) 200 mg
 
Synthroid (Levothyroxine) 50 mcg
Zrytec (Cetirizine) 10 mg
 
Quercetin 500 mg
Quercetin 500 mg
Neurontin (Gabapentin) 300 mg
Vitamin B1 (Thiamine) 100 mg*
 
Vitamin B1 (Thiamine) 100 mg*
 
*Vitamin B1 (Thiamine) started 12/23/22
Previous Medications
Short-term Prednisone (following ER Trip) provided significant relief of pain, skin rash, lesions, reduced swelling, and allowed more foods to be tolerated. Produced significant improvement of symptoms.
Ketotifen – This medication was introduced and then discontinued due to potential side effects and lack of progress. Megan was taking 1 mg
Cromolyn – This medication caused mouth ulcers (white spots) to occur, and it was discontinued. A nebulized form was prescribed but given without instructions as to how to introduce.
Xifaxan – 10-day antibiotic course completed on 7/18/22 without improvement
We Need Your Help
More people than ever are reading Hormones Matter, a testament to the need for independent voices in health and medicine. We are not funded and accept limited advertising. Unlike many health sites, we don't force you to purchase a subscription. We believe health information should be open to all. If you read Hormones Matter, like it, please help support it. Contribute now.
Yes, I would like to support Hormones Matter.
Photo by Sydney Rae on Unsplash.