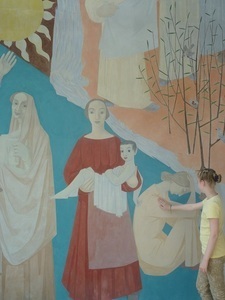 My daughter Sara was almost 13 when she became ill after two inoculations of the Gardasil HPV vaccine. Read her story: The Gardasil Experience in Denmark. Much has happened since then in Denmark as well globally concerning the HPV vaccine issue. Sara turned 15 when over two years of severe illness had passed. She has slowly achieved some recovery from more than 30 symptoms including a walking disability and severe brain fog.
This is an update on the continuing struggle toward Sara's recovery. Like many families, we have had to navigate in areas of medicine, where there were no experts to guide us. Thanks to networking, it has been possible to find highly skilled doctors, using a variety of methods from both orthodox and complementary medicine, to help treat Sara.
As families of Gardasil-injured girls we have had fights with our respective governments to recognize the illnesses that were born from this vaccine. In Denmark and Japan, the battles we fought have begun to bear some success. Researchers are uncovering new connections, and medical institutions are beginning to recognize the post Gardasil health issues. We are making progress, but there is still much to do.
Gaining Recognition for Gardasil Injuries: Denmark and Japan
For thousands of patients and families, in over 50 countries, recovering from post Gardasil illnesses has been an ongoing struggle. It has been difficult for the patients and their families to get the medical care needed. There is still very little research on post-Gardasil injuries. There are no tests available to diagnose the illnesses and injuries that develop post vaccine, and there are no recognized treatments for these patients within established health care systems. In fact, for the most part, these symptoms are all-but-ignored by most practitioners.
However, the activism and networking of many families has led to some positive outcomes in recognition. For example, a Japanese TV company made contact and visited our home in December 2014. Soon after a documentary about the Danish HPV situation aired in Japan 12th January 2015. Sara was the main case. Danish doctors met with the Japanese Prof. Kusuki Nishioka, MD, PhD, director of Institute of Medical Science, Tokyo Medical University, who specializes in rheumatic diseases and fibromyalgia. Dr. Nishioka has been a leading voice in Japan against the HPV vaccine. The meeting (featured at 9:50) concluded with a recognition of clear similarities between the symptoms of Japanese and Danish patients.
In Denmark, over the last two years, there has been a growing public wake up with stories in the newspapers, on TV and social media. The interest among politicians, authorities and doctors increased. This has probably been a contributing factor in the growing number of patients reporting side effects. According to the latest update (September 2015) from a database of the Danish Health and Medicines Authority, of the over 500,000 young girls and women who received the vaccine, there have been:
1806 reports of adverse reactions (each person could have up to over 30 symptoms)
374 reports (out of 1386) per News on Side effects per have been classified 'severe' from 2006 and up through April 2015.
I should note that the Danish Board of Health failed to report an additional 81 adverse reactions that occurred prior to the vaccine's introduction into children's vaccine program in 2009; 11 of these 81 cases were classified serious. The latest update of the database can be viewed here: Danish reports of Gardasil adverse reactions.
In Denmark, the reporting of adverse reactions has increased by about 100 new cases every month since April. Still more families realize how their daughter's symptoms look similar to obvious patterns presented. A thread is running through all these cases stories of severe side effects, as a Danish leading hospital doctor and researcher stated on TV (1:30).
Gardasil, POTS and CRP: New Research on the HPV-Vaccine Induced Neurological Damage
A research team of doctors and medical staff at Coordinating research Centre/Syncope Unit, Frederiksberg Hospital, published three studies of patient groups with severe neurological symptoms including pain following shortly after HPV-vaccination.
Another study describes 21 cases with the diagnose POTS: Orthostatic intolerance and postural tachycardia syndrome as suspected adverse effects of vaccination against human papilloma virus.
The Danish findings have made EMA (European Medicines Agency) investigate into the HPV-vaccine, security and side effects by focusing on POTS (Postural Orthostatic Tachycardia Syndrome) and CRPS (Complex Regional Pain Syndrome). The EMA report is expected to be finished by May 2016.
Danish and Japanese health authorities are keeping contact as well. Danish Health and Medicines Authorities with the help of a pediatrician are reviewing all adverse drug reports in Denmark focusing patterns of symptoms rather than diagnoses.
A Danish TV documentary in March this year presented three case stories. Over fifty young girls participated anonymously in the report simply by silent presence, all making a great impact. The report presented interviews by Danish and British physicians. A Danish professor of molecular medicine comments about the remarkable test results of a young patient after intravenous infusions of phosphoplipids, performed in England (21:20).
Increased Media Coverage, Increased Side Effect Recognition
After the Danish TV report aired, a veritable telephone storm began the very next morning with post Gardasil patients wanting referrals to Frederiksberg Hospital. Until then, the Syncope Unit had examined about 80-90 patients with HPV-vaccine side effects. After the TV documentary, the number of patients grew to 350, increased to 525 referrals by August, and now there is a huge waiting list.
At the same time, Health Care Council of Danish Regions announced the establishment of five centers (one for each Region in Denmark), opening June 1, of this year. These centers were established to treat patients with suspected side effects from the HPV-vaccine. Frederiksberg Hospital Syncope Unit, situated in Copenhagen, as a research Center for natural reasons remained center of the Capital Region. Over 1100 patients are referred to the five Regions by now.
The problem is, in spite of waiting lists, the four other centers have no experience and no present research to help clarify these symptoms in patients without a diagnosis. The knowledge and qualifications of staff behind these doors remain lacking because of the paucity of research on Gardasil side effects. Unfortunately, still some patients are met by an attitude of arrogance. Most physicians have no idea what to look for in these HPV injuries.
At the Frederiksberg Syncope Unit the research team doctors have some ideas, though. While continuing to work with new patients, the unit's physicians are diagnosing many cases of POTS (by tilt bearing test). By September this year, 62 reported cases have been diagnosed POTS after the Gardasil, HPV vaccination in Denmark. Symptoms are mainly neurological and sometimes resemble or include those of Myalgic Encephalomyelitis (ME). Several of the patients after receiving the Gardasil HPV vaccine examined at Frederiksberg Hospital could be diagnosed ME, according to the research team´s third study this year: Is Chronic Fatigue Syndrome/Myalgic Encephalomyelitis a Relevant Diagnosis in Patients with Suspected Side Effects to Human Papilloma Virus Vaccine?
POTS, ME and Mitochondria
POTS is a well known comorbidity to ME according to the research. It is also connected to mitochondrial dysfunction. An emerging theory is that Gardasil damages nerve cells and induces mitochondrial degeneration. This then leads to conditions of energy loss with neurological symptoms. An increasing number of international studies on Gardasil and Cervarix have been published over the last few years. Case studies such as CNS demyelination following HPV vaccination have been described. Research teams and doctors in Denmark, Israel and Japan etc. are looking into correlation by studying autoimmunity and possible markers. When analyzing symptoms a pattern emerges between this vaccine and many severe injuries. Strong connections have been presented in Death after Quadrivalent Human Papillomavirus (HPV) Vaccination: Causal or Coincidental?
More recently, six cases of POTS were described and published. Another case study presents a 14 year old girl with POTS and Chronic Fatigue Syndrome after the Gardasil vaccine. Last year a Japanese study included 40 cases, the main part with symptoms identical to CRPS, and four cases were even diagnosed POTS. Prof. Yehuda Shoenfeld and his team recently published a study on Safety of Human Papilloma Virus-Blockers and the Risk of Triggering Autoimmune Diseases. The authors conclude, after a review of U.S. VAERS reports, though the vaccine is stated as safe, there are many mechanisms by which autoimmunity is triggered by Gardasil vaccine adjuvants and viral proteins. They suggest that recombinant proteins from Gardasil are leading to an increased association with autoimmunity.
My daughter Sara experience the symptoms concordant with the major criteria of ASIA syndrome proposed by Prof. Shoenfeld. Her case was sent to the international ASIA registry last year. By now other Danish patient cases are being registered.
The Japanese doctor Kusuki Nishioka presented his work at an international congress of bio-rheumatology in Moscow July 2014. Nishioka's work points to another post Gardasil Syndrome called HANS or Human Papillomavirus Associated Neuroimmunopathic Syndrome.
Sara's Recovery from Gardasil Injury
Our daughter's health history is an example of a likely temporal correlation between the Gardasil vaccine and a host of complicated post vaccine symptoms. Sara fainted two days after her second vaccination with Gardasil, March 2013. Right after this, all her neurological symptoms appeared, one after another. Children's hospital performed several analyses including CT and MRI scans. The only blood test that came out positive was a very low vitamin D test (at 25). The only suggestion for treatment by children's ward, was a powder medication for non-existing constipation that was postulated due to her abdominal pains. This medication was given despite the fact that her primary symptoms were neurological like tingling, burning and pain of legs and arms, dizziness, fatigue and a constant headache. A neurological examination seemed out of question and was rejected.
We realized that there was no treatment in Denmark for Sara and went to the Swiss clinic Paracelsus, Lustmühle. Back in Denmark, Sara was diagnosed POTS at Frederiksberg Hospital shortly after; although a doctor of social medicine at children's hospital had claimed Sara could not suffer from any physical diseases and implied it was only some kind of bio-psycho-social disorder.
With the help of our Swiss doctor, Sara had several tests performed by foreign laboratories (German, Swiss, Belgium and British). Clear markers were found proving a dysfunction of her mitochondria, the "powerhouses" of the cells. Among signs of severe oxidative stress were low levels of coenzyme Q10, a key element in the energy production of the cells.
Severe toxic reaction to the vaccination with Gardasil, initiating fibromyalgia syndrome (FMS) with acquired mitochondriopathy, was the Swiss diagnosis. Sara's muscle pains were correlating classic trigger points of FMS.
Similar symptoms and diagnoses have been proposed in two patients after post HPV vaccine, by Dr. Manuel Martínez-Lavín.
Sara's treatment was planned from test results, by her Swiss doctor's experience in pediatrics and diseases of energy loss like Fibromyalgia Syndrome. The doctors there had great competence and knowledge from other vaccine injuries. On several occasions, the doctor hit the nail on the head with tests which would guide treatment details. Sara slowly began to improve.
Abdominal pains recovered within the first few months. At our local children's ward doctors did not manage to perform a test of Celiac disease, whilst the Swiss clinic found pathological bacteria like Klebsiella Pneumo and other problems of the gut, which needed treatment.
After the Gardasil vaccine, her skin and muscles were sensitive to any touch, she could hardly use a wash cloth for her face. Today a careful massage and deeper pressure of muscles can even be tolerated.
More common metabolic tests were later managed within the Danish system (by our GP), and several linked hormones were affected. Sara had TSH and T4/T3 measured at the very low/ under border. According to the Swiss doctor there is a clear cut connection. He theorizes, recombinant proteins from Gardasil lead to damage of the brain nerve cells, especially affecting the hypothalamus and hypophysis, running the production of hormones in the thyroid gland, the adrenals and the ovaries. Via the TSH-control the thyroid gland normally should produce sufficient levels of T4/T3. But TSH is low as the releasing hormone (TRH) from the damaged hypothalamus is low. TRH has a direct effect on the mitochondria, as a permanent "crosstalk" is going on.
Hormones Matter has published a number of articles on post-medication and vaccine thyroid injury.
Last winter Sara had a solution of homeopathic injections of her skin (sub cutane, D5 Hypophysis and Hypothalamus) four times a week, performed at home by her very brave dad, monitored by the Swiss doctor. New Danish test results are showing TSH and T4 increased to normal levels.
Her HPV related symptoms were worsened with menstrual related pains, increasing to unbearable levels. Though still quite painful today, they are closer to normal for her age.
Her temperature regulation problems have almost gone. Before she would freeze and need a woolen blanket when everybody else felt warm in front of the wood-burning stove, or she would feel too hot in chilly surroundings. Night sweats are history.
Along with the mentioned treatment Sara has been taking a huge number of additional natural supplements and medication. Her diet has been strictly controlled too, with only healthy, nutritional foods allowed per our wonderful Swiss nutritionist at the Paracelsus Clinic.
More than once, Glutathione was measured by test to be at the very low border, and it has been complicated so far to raise this to normal levels.
No doubt phospholipids (NT Factor ATP lipids powder) made a difference of mitochondrial function since the ATP, the energy for every cell, has increased markedly. Nevertheless, lab tests have proven there is still an inability to produce sufficient amounts of ATP, which explains her rapid fatigue and problems in concentrating over longer periods of time. We expect future tests to show even better results based on the very good improvements we have seen so far.
Correcting the Post Gardasil Thiamine Deficiency
Probably the most effective supplement lately has been Sara's treatment for thiamine deficiency, advised by Dr. Lonsdale. Thiamine is Vitamin B1. This article, in particular, was very helpful: Thiamine and magnesium deficiencies: keys to disease.
We found a German laboratory, Ganz Immun Diagnostics, performing the test for Transketolase in red cells, and the TPP-effect which was 27,5% (normal range < 20%.). To Dr. Lonsdale, there was no doubt, Sara would need Allithiamine (TTFD, a bioavailable form of fat soluble Vitamin B1), plus magnesium potassium aspartate.
Sara went through a tough time over some weeks by a so called "vitamin therapy paradox". Side effects occurred, she had to go down to half the dose to continue and simply cope with some unpleasant symptoms for a few weeks before going back on full dose. Sara came out better than she had been for a long time, with more energy, and slowly a clearer mind. So far, most of her previous main pains still remain to some degree, but the paradox-related side effects have gone.
Best of all her brain fog began to lift with the thiamine treatment. Learning has even become possible along with concentration and memory improving. She manages a limited number of lessons at home, and she remembers much better than earlier. Her new level of energy allows her slowly to participate in the activities she had not been able to do in the years since the vaccine injury. Still seeing friends takes her energy, and social life is limited. If she overdoes her activity, the bill arrives sometimes days later by exhaustion and deterioration.
Another important treatment has been to increase the level of SAM. S-Adenosyl Methionine (also SAMe) is an important compound of the body and plays a role in many important processes of the immune system including maintains cell membranes. Last summer Sara could only walk up to 300 meters in a very slow speed at pains, with burning feet and exhaustion. We used a wheel chair once to get her to an open air musical area. This really felt like a step in the wrong direction.
She was diagnosed toxic neuropathy (after Gardasil) by a Danish retired doctor. The Swiss doctor made sure we had SAM measured by a German laboratory. Within the first four weeks of treatment by Methyl Guard (Thorne, US, Veggie caps), Sara could walk much better. We even enjoyed her amazing first careful dancing steps for the first time within months.
Sara's Health Today
Today Sara can walk distances at good days about 1.5 kilometers at a normal speed with small pauses; and she can bike even longer. Twitching legs and cramps have almost disappeared and very rarely occur after too much exertion.
Sara started horse riding therapy, which she simply loves. After some weeks her muscle power improved clearly, and she can now carry a horse saddle. Months ago she could hardly lift a glass of water. She is more independent in activities of daily living, though she still needs help to some degree. She can do things like baking pan cakes again.
While still improving, our hope is to find a way for Sara to recover from resisting pains and to achieve more energy over time. Remaining are still some sensory disturbances (tingling and the more rare burning sensations) and sensitivity to light. Her constant headache lasting over two years, muscle pains of legs/and partly of arms are still present, though once in a while less heavy and variations appear during day time. Still remains severe fatigue and often a delayed exhaustion, which are all typical ME-symptoms. Myalgic Encephalomyelitis is another diagnosis Sara probably will have to cope with.
Sara lost two important years of teenage life. She'll have lots to catch up with in the future. She faces a great challenge with her education, as two school years have been lost so far. She will hopefully go back to some kind of school life in the future. Sara enjoys music and her classical song lessons. She has kept her hopes and dreams alive, and she can even benefit from her very hard experiences by Gardasil injury. The damage it did to her made her mature and wise beyond her age.
The Toll Gardasil Recovery Takes on the Family
As a family this has been a challenge; sometimes feeling like a never ending nightmare. We realized early, there was no established treatment for this condition, and perhaps luckily, we went abroad in time.
As a mom, I have to stay on top of everything and keep up my energy for activism, networking, and first of all for the care taking. Organizing blood samples is another job, plus catching up on results and writing regular status reports of symptoms and improvement. Ordering supplements is a task for her dad. Sara's treatment has been counting over 25 different capsules, tablets, plus liquid remedies and drops, powders and injections.
No Danish physician has been able to take charge of Sara's treatment. The Swiss doctor has been the main physician during the last two years. Our GP kindly assists in blood taking for German labs etc., something not many GPs would do.
The Swiss treatment was welcomed by three or four physicians here, who all have been supportive in Sara's care. Foreign practitioners shared with us their knowledge and experience as well. For sure, the more consensus, the safer we feel.
Added to treatment, there are exhausting meetings with officials in accordance of planning Sara's teaching and making sure her lessons are always adjusted to her present resources. We have clear laws on teaching ill pupils at home by local school.
As these post vaccine injury conditions are still not very well known, authorities do not always understand and respect patient's decreased resources and special needs. Many young girls are trapped by now in the grey area, not able to cope with education or full time work, neither do we have social legislation to cover them appropriately.
There are no guarantees of a full recovery, though we still have our hopes and spirits. The pleasure and great relief of seeing Sara progress will never replace the tremendous pain and losses she has suffered, neither the price we payed as a family; not to mention financial costs.
Regarding connection the remaining dots of vaccine damages, rebuilding mitochondrial function is of great importance. By taking supplements of certain vitamins, minerals, phospholipids, fatty acids (omega-3 and -6 oils), antioxidants and amino acids, it is possible to facilitate a regeneration and maintenance of mitochondrial structure and cell metabolism. These supplements ease the symptoms for Sara and other post HPV-vaccine injured patients.
Final Thoughts
Well skilled naturopaths and physicians from Japan, across Europe and the U.S. are putting great effort in trying different protocols with varied positive effects. An example of co-work is Japanese, Danish and British protocols, as described in Orthomolecular treatment by Atsuo Yanagisawa. There is no quick cure fitting everybody. It is an individual and very long process to find the appropriate treatment. There exists great consensus on certain issues. Namely, that we need more testing and research. The more we know about post Gardasil damage at the molecular level, the better a treatment could be adjusted precisely for each patient. Along with more research and improved testing, we need to understand the relationship between this vaccine and the range of side-effects that develop. This will uncover causal connections to the vaccine injuries. Most importantly, we need to share experiences and research. This will help those who need to recover, and hopefully, prevent future victims.