In the summer 2013, a geneticist we were seeing for my daughter ordered a test. Little did I know that test would contribute to a change in the course of my daughter's life as well as a new area of study and advocacy for my career. This is my first time to write for Hormones Matter, so let me start by introducing myself. I am Kristi Wees and I am a pediatric patient advocate with EmpoweredAdvocacy.com as well as a national consultant for patient advocacy, empowerment, and engagement in the field of pediatric genetics. I was trained as a chemist at Penn State University with graduate training at UCLA. It was the journey that my daughter's health took our family on that made me realize exactly why I had studied chemistry.
Fast forward to 2020, nearly 7 years later and now a pandemic with COVID-19, and I again realize how that 2013 test has sent us on an incredible journey. That 2013 test was for transketolase, which is a blood test to determine a vitamin (thiamine, B1) insufficiency. At the time, my daughter was struggling with autistic-like behaviors, severe fatigue, suspected mitochondrial disease, gastrointestinal concerns, severe food intolerances, and chemical sensitivities. The future looked bleak and hopeless.
After this test result came back, I began to search the literature about thiamine and found the work of Dr. Derrick Lonsdale. With guidance and a prescription from our medical team, we began our daughter on thiamine supplementation. In 2016,  I had the distinct honor of meeting Dr. Lonsdale in person. In 2019, I had the honor of interviewing him with Patricia Lemer for an episode called, "I Have A Child Who…Has Tantrums".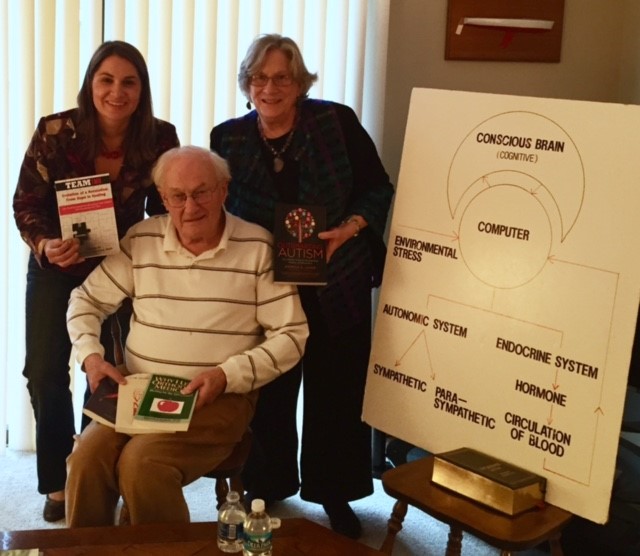 A few weeks ago, I was reading the medical literature (here, here, and here) and watching anecdotal reports (here) regarding COVID-19 and began to see some clues that made me think of Dr. Lonsdale's work on thiamine. I reached out to him via email and he shared with me that he too was seeing similar red flags and that he was frustrated because at 96 years old, and having dedicated his life to research on this vitamin, he believed it could be helping so many critically ill patients. He asked if I had any ideas about how to help him get the word out.
Here is the idea we came up with: a recorded interview. Dr. Lonsdale is a gentleman with whom I have come to know as a friend, mentor, and researcher and whose body of work helped my child thrive. I believe he possesses wisdom that has been forgotten and largely ignored by modern medicine. Listen to the interview, you won't be disappointed.
Interview With Dr. Derrick Lonsdale: Thoughts on COVID-19
Dr. Derrick Lonsdale's thoughts on COVID19 from Empowered Advocacy on Vimeo.
Shortly after releasing the video last week I came across this study: Intravenous Thiamine Is Associated With Increased Oxygen Consumption in Critically Ill Patients With Preserved Cardiac Index. Which again confirms Dr. Lonsdale's conviction that thiamine can greatly improve the current situation in many ICU's nationwide.
After treatment with thiamine, and many dietary, environmental and lifestyle changes, plus a whole lot of answered prayers, my daughter is thriving today with no residual behavioral, medical, neurological, developmental or learning challenges. Could thiamine also help overcome COVID-19? Possibly.
We Need Your Help
More people than ever are reading Hormones Matter, a testament to the need for independent voices in health and medicine. We are not funded and accept limited advertising. Unlike many health sites, we don't force you to purchase a subscription. We believe health information should be open to all. If you read Hormones Matter, like it, please help support it. Contribute now.