Like
Four years ago, I was very ill with disabling digestive symptoms that proved to be a mystery to my doctors and me. I had round-the-clock nausea, vomiting, abdominal pain, and rapid weight loss. It got so bad I lost my job, had to get a feeding tube, and could barely care for my children. My doctors were baffled, but worse, they implied my symptoms were all in my head or from a postpartum syndrome. My family and I, however, knew better.
I refused to give up or settle for a mediocre doctor's easy way out of blaming the patient for her symptoms. I searched high and low and had to travel halfway across the United States, but I found a doctor who ultimately diagnosed me with Sphincter of Oddi dysfunction (SOD). Though I had a diagnosis, what followed was a series of failed treatments, near death experiences, and treatment-related complications. Today, thankfully, I am doing well.
What is Sphincter of Oddi Dysfunction?
SOD is not easily explained by its title, nor is one definition agreed upon in scientific circles. Essentially, SOD is the result of the biliary and pancreatic sphincters malfunctioning and is most prevalent in women who had their gallbladders removed. The hallmark symptom is pain under the right rib cage that may radiate to the back and shoulder, but nausea is also a frequent complaint. Many women go undiagnosed or untreated due to the fact many GI doctors are ill-equipped to recognize the disease or refuse to believe it exists.
Minimal research has been conducted to find a cure for Sphincter of Oddi dysfunction. It would seem logical to research hormonal effects with SOD since it primarily affects women.  However, that would be too logical for today's gastroenterology researchers. Instead, they focus on research aimed at cutting the sphincter up (sphincterotomy) or antidepressants. Most recent research focuses on trying to disprove SOD as a valid condition, giving GI doctors the green light to abandon their mostly female patients afflicted with this condition. It is impossible to claim the biliary and pancreatic sphincters are the only body part free from dysfunction.
The Birth of a Book
At the beginning of my journey, I found few patient-friendly resources on SOD. The only book about SOD I could find was a textbook written in 1976. I could not even locate a brochure about SOD. All of the information I did happen to find on the Internet was written in research or medical jargon. Luckily, I am fairly intelligent and could decipher the big words and confusing lingo. However, I often thought how terrible it must be for patients having difficulty interpreting it all, who were desperate for information about their condition.
About a year ago, I started writing articles and blogs about SOD, including one published on Hormones Matter. It was clear to me that a book needed to be written about SOD after seeing the numerous comments from readers and number of "hits" each post received.  I wished there had been more resources when I was searching for answers. Therefore, I began writing a book.
I wrote and wrote and wrote—day and night. Before I knew it, I had written an actual book, The Sphincter of Oddi Dysfunction Survival Guide. It wasn't difficult because all of the content I had was in my head, from experience and extensive research. Along the way, I had discovered the most helpful SOD information out there did not exist on a website or in a book. It did not come from my doctors either. The best information I gathered on SOD was from fellow SOD sufferers.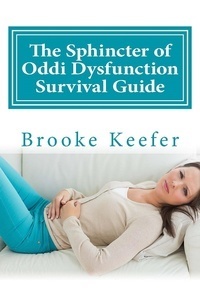 The resulting guide is a compendium of my and other SOD patients' personal experiences with trying to find a diagnosis, obtain treatment, and develop coping strategies. I also included a good amount of information regarding the science behind SOD, which I tried my best to decipher into laymen's terms. I also discussed the need for research and for doctors to stop blaming patients for their symptoms.
It is my hope that GI doctors, primary care physicians, naturopaths and functional medicine practitioners will read this book as most need to be educated about this condition. From my experience, SOD patients know more about their disease and treatments than their doctors. We need to change that.
Writing this book reminded me of the old saying, "When life gives you lemons, make lemonade." I encourage anyone reading this to do the same. You'd be surprised how easy it is to write and publish a book these days.