Like
Let's rewind time. We're in 1970. My mum, like millions of other women, puts all her trust and last hopes of carrying a successful pregnancy in the hands of health professionals. She accepts to take a drug recommended and prescribed in good faith by her doctor without knowing that years later it would have devastating consequences not only on her health but the health of her daughter and possibly her grand-children. She takes Diethylstilbestrol (or DES in short), the first synthetic man made female sex hormone (oestrogen) widely prescribed for public use in the mistaken belief that it would prevent miscarriage and loss.
Now let's fast forward. We're in 2001 three decades after my mum took DES. I'm in a hospital ward anxiously waiting for the results of a scan. I'm pregnant. "We're so sorry, but you know 1 out of 5 pregnancies end in miscarriage. You should try again" I'm told. My head is spinning. What did my Mum said again? DES, yes DES, I remember now. She mentioned when I was just a teenage girl that research had confirmed that the drug taken throughout her pregnancy to prevent miscarriage was responsible for all sorts of dreadful health issues including a rare form of vaginal cancer, infertility and high risks pregnancies. What if this was responsible for the loss of my baby, I ask. "DES? What is DES? Never heard of it!" replies the consultant on duty that day. "If you keep miscarrying, we'll investigate further" he adds.
I don't listen and seek help and advice from an organization founded by a mother who had been prescribed this drug and advocates for the many families affected by DES. A Professor, expert in fertility treatment, confirms a congenital uterine malformation typical of DES exposure and confirms that I'm a DES daughter, one amongst millions of other women whose mothers took Diethylstilbestrol during pregnancy.
If you were born or pregnant in the US between 1938 and 1971, and until the mid-'80s in some European countries, you may have been exposed to DES too and you may suffer from the consequences of this drug without even knowing it. Diethylstilbestrol has put the mothers prescribed the drug, their daughters and sons exposed in utero, and potentially their grandchildren due to the trans-generational effects of this synthetic hormone, at risk for serious health problems including but not limited to: structural damages in reproductive organs, high risk pregnancies and miscarriage, cancer, infertility and possible immune system impairment. Many other suspected effects are still awaiting further research but funding is critically missing.
Often referred to as the "Silent Thalidomide" by the media, diethylstilbestrol is considered as the world's first drug scandal. Despite evidence of its ineffectiveness and danger, it continued to be prescribed to pregnant women beyond 1971 when the first link between DES and a rare form of vaginal cancer (clear cell adenocarcinoma) was formally established in Boston, Massachusetts.
Even though this drug was given to pregnant women decades ago, it affects and continues to affect millions of families today and possibly for many years to come. Yet, diethylstilbestrol has been and still is a well-kept secret, a taboo subject not only in families but within the medical community too.
No drug manufacturers, health authorities, nor governments have ever taken responsibility for the long term health side effects of this drug.
Don't Pharmaceutical companies have a responsibility to their consumers to provide a product that is safe?
Four sisters recently filed a lawsuit against drug manufacturer Eli Lilly. They feel that their breast cancer was a direct result of Eli Lilly's negligence. Eli Lilly has never accepted responsibility nor apologized for the DES tragedy, even though the company has paid millions in out-of-court settlements and verdicts to DES Daughters and Sons who suffered injuries from their exposure. The Melnick sisters reached a settlement with the drug company a few weeks ago, but Eli Lilly has not accepted any responsibility. Outraged by Eli Lilly's failure to fess up on DES, Patricia Royall, a plaintiff in one of the 72 pending DES breast cancer lawsuits in Boston federal court and the District of Columbia, is now calling on the general public to sign a petition urging the drug manufacturer to apologize for the DES tragedy. From all corners of the globe, Australia to France, the UK to the Netherlands, Ireland to the USA, DES victims are crying out for justice.
Diethylstilbestrol is a world drug disaster yet very few people know about its tragic health consequences or have even heard about it. Public health awareness campaigns are vital to reaching out to the millions of people who have been exposed to this harmful drug. People who are not aware of their exposure to DES are not receiving proper medical treatment, or making truly informed decisions about their healthcare, as a result. It is equally important to educate the next generations of health professionals who have never heard of DES so they can provide adequate care to DES victims for years to come.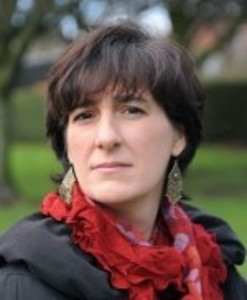 DES is not something of the past. People who have been exposed to this drug years ago are battling with health issues and fighting for their lives as I'm writing this blog post. Who knows what health problems the grandchildren of the mothers who were prescribed this drug will have to deal with as they grow up. I want my daughters to receive adequate medical care and monitoring if they ever have to suffer the consequences of this drug. This is why together with my husband we support the great work done by the very few International DES Action Groups who are providing valuable information and are advocating for the DES victims.
If you're concerned that you may have been exposed to DES, please don't let doctors dismiss your concerns. Contact your local DES Action Group for professional advice and guidance.  Connect with me and other DES daughters via my blog: DES Daughter Network and my website: Journal of a DES Daughter. You have the right to know.
We need your help.
Hormones Matter needs funding now. Our research funding was cut recently and because of our commitment to independent health research and journalism unbiased by commercial interests we allow minimal advertising on the site. That means all funding must come from you, our readers. Don't let Hormones Matter die.
Yes, I'd like to support Hormones Matter.
This article was published previously on Hormones Matter in February 2013.