Like
DES Info: "The fear is still there and the tears are still flowing" #TheDESTragedy
It's interesting watching our roles within the family change over time. I saw my mother cry during those long and difficult years when my compromised reproductive system worked so badly. Now, I find myself on an emotional tightrope worrying about the future effects of DES exposure on myself, my son and my granddaughters who are also members of the DES community.
Worrying seems to go with being a DES Daughter. My first real jolt came when excitement at my first pregnancy which turned to sadness upon learning it was an ectopic pregnancy. In the early 1970's, we didn't know of the increased ectopic pregnancy risk for DES Daughters, but I always wondered. Years were spent trying to get pregnant again and I underwent additional surgeries trying to help my fertility and chances of becoming pregnant.
The doctors felt that I would never be able to get pregnant. It was not easy but I was granted a "miracle baby" and my son was born after a difficult pregnancy.
We had wanted more children, so we tried again, only to experience the heartache of a second ectopic pregnancy. I hadn't felt well but doctors couldn't find a problem so they sent me home. There were no ultrasounds then so we didn't know how serious things were until the Fallopian tube ruptured and I almost died. I remember waking up on a ventilator, knowing what had happened and crying along with my husband, mother and father.
You can only imagine how my Mom felt then. She was angry and mad at the DES she'd been prescribed. Mom and I both cried long and hard during my recovery as we realized the loss of both ovaries and Fallopian tubes meant I'd reached the end of my fertility at the age of 26. It had been my dream to have another child and it was gone. I think the hardest to overcome was the loss of not being able to have another child and to see my Mom's grief along with my own.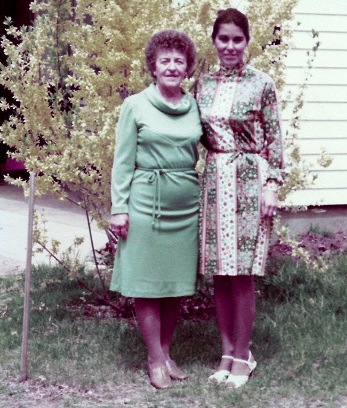 But I was alive – with a son to raise. Through the years my son has remained healthy, however, I still worry. He is a DES Grandson and we don't know whether there are problems yet to come. I have to worry for my son because he doesn't do it himself. He's a typical guy and tells me not to be concerned. I urge him to pay attention to his body and get the health screenings he needs as a man. I think most mothers worry about their sons, but being a DES Daughter, with a DES Grandson, exacerbates the situation. His life has also been affected by his and his wife's own pregnancy losses. Any connection to DES? One wonders and my fears are still there.
And then there's great joy in my life. My son and his wife welcomed two daughters into their family. I melt when they run into my arms and seem so perfect. But in my quiet moments I have been known to cry when I think that they are DES Great Granddaughters and might have also been affected by this drug. It's just too early to know for sure, so my fears are there.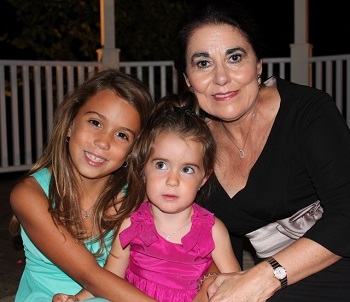 How do I handle this? By staying informed about DES and being an advocate for the DES exposed. We must be educated, aggressive and assertive when dealing with our health care. Don't be shy, read all you can. If you read the Facebook page DES Info, you will know more than your doctor.
Case in point – after my hysterectomy, I did not feel that I needed any further Pap tests. But I learned from activist Pat Cody, that what holds true for unexposed women does not necessarily apply to DES Daughters. So I do take care of myself and have yearly Pap/pelvic exams and mammograms. All DES Daughters should, whether or not they've had a hysterectomy. Of course, I worry about cancer – now even breast cancer – so the fear is still there and the tears are still flowing.
But I am also taking action. I pay attention to DES for myself, my son and my granddaughters. We need more research and information for DES sons and grandsons along with the third generation.
The word needs to get out that DES exposure did affect the fetus's skeletal structure. Research has proven this. I know it has affected mine because I am dealing with osteoporosis and brittle bones.
In quiet moments I'm sure we've all been overwhelmed with emotions. But nothing feels better than rising up and doing something positive. You can get involved by advocating for the DES exposure and to push government agencies to do more.
The DES Tragedy still continues. We now know that it is in the animal industry in Kenya and women are taking DES intended for the cattle. We have also heard that this drug is also being used in China and India.
As a DES daughter, like many of the exposed around the world, we are still awaiting an apology for this tragedy.
We Need Your Help
More people than ever are reading Hormones Matter, a testament to the need for independent voices in health and medicine. We are not funded and accept limited advertising. Unlike many health sites, we don't force you to purchase a subscription. We believe health information should be open to all. If you read Hormones Matter, like it, please help support it. Contribute now.
Yes, I would like to support Hormones Matter.
This article was originally published on September 5, 2017.