Like
Over the last few years, it has become increasingly apparent how important thiamine is to overall health. Thiamine (thiamin) or vitamin B1, sits atop the mitochondria at multiple entry points involved in the metabolism of foods into cellular energy (ATP). It is also critical for several enzymatic reactions within the mitochondria. We have illustrated repeatedly how thiamine deficiency leads to mitochondrial dysfunction, which in turn leads to complex multi-organ system illnesses characterized by chronic inflammation, disturbed immune function, altered steroidogenesis. Each of these is related to deficient mitochondrial energetics. When serious or chronic, thiamine deficiency leads to erratic autonomic function, now called dysautonomia, and a set of disease processes called beriberi.
Long before those symptoms emerge and absent severe deficiency, marginal thiamine status evokes subtle changes in metabolic function. Among these changes, enzymes that would normally metabolize certain foods fully and into useful substrates for other functions are downregulated, shifting the metabolic pathway towards more toxic end-products. The chemistry is complicated and we will go over it in a moment, but first I would like to propose a framework for understanding metabolism. For me, it is useful to imagine metabolism visually as giant maze of right and left turns; where wrong turns lead to dead ends and dead ends lead to the build up of endogenous toxins. Among the primary variables determining the route metabolism takes is enzyme nutrition.
Enzymes require nutrient cofactors to perform their metabolic tasks. When the appropriate nutrient co-factors are present in sufficient concentrations for the enzymes to operate fully, the food we eat is successfully metabolized into end-products that are useful for all manner of processes and cellular energy is produced. Even in the case of genetic aberrations that limit enzyme function endogenously, there is evidence that nutrient manipulation can overcome inadequate enzyme activity. When nutrient co-factors are in short-supply, however, resources are reallocated. Metabolism shifts directions, it takes a right turn when it should move left or vice versa. Different enzymes are activated and metabolism eventually reaches a dead end but not before potentially toxic, unused waste products build up. As these toxins build up, other systems become disrupted, inflammatory and immune responses are activated, demanding ever more energy to resolve. It is this energy spiral, I believe, that induces and maintains many of the illnesses we see today. This means that observing how one reacts to certain foods may point us to correctable nutrient deficiencies.
The Rise in Food Sensitivities
In recent years, I have become fascinated by the growing preponderance of food sensitivities and intolerances. It seems everyone has a problem with something. Given the current practices used in industrial food production, I suppose it is no wonder. We use a staggering number of chemicals to grow and process foods; chemicals that reduce the nutrient content of supposedly healthy foods, but also, present as toxicants that must be dealt with metabolically when ingested. The double hit of low nutrients/high toxicants is disastrous for metabolism. Throw in the generally high calorie content of the western diet and one has to wonder how our mitochondria function at all. And yet they do. Well, sort of. If we don't count the exponential growth in chronic and seemingly intractable illnesses, but I digress. I believe that food, or lack of quality food, is top among the core contributors to modern illness and food sensitivities are among the key early warning signs of poor metabolism and by definition, faltering mitochondria.
Oxalate Problems
One of the more intriguing and troubling food intolerances that has become increasingly common is to the high oxalate foods. Oxalates are natural substances found in many healthy foods, especially dark leafy greens like spinach, that bind calcium and other minerals, and when left unmetabolized, can form crystals leading to kidney stones. Approximately 10% of men and 7% of women experience at least one episode of kidney stones across the lifetime. Beyond the kidney stone, oxalate intolerance is linked to wide range of chronic health conditions largely due to the build up oxalic acid which may or may not bind calcium, but causes problems nevertheless. Poor oxalate metabolism disrupts gut health, shifting the microbiome unfavorably causing dysbiosis, damages the mitochondria and induces system wide oxidative stress, inflammation and immune reactivity. Problems with oxalate metabolism have been found in individuals with autism, multiple sclerosis, arthritis, and fibromyalgia to name but a few. A common and usually somewhat successful remedy is to avoid the consumption of high oxalate foods. Below are some of the more common high oxalates.
Figure 1. High Oxalate Foods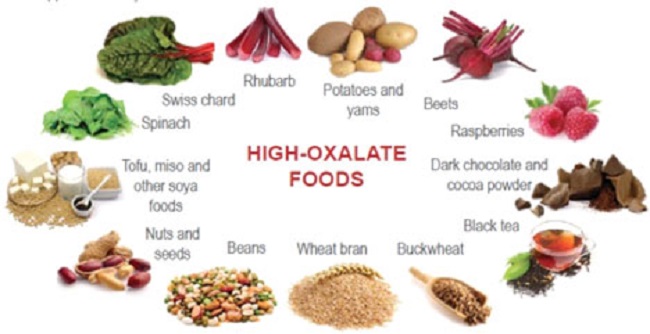 Absent genetic aberrations leading to poor oxalate handling, I cannot help but wondering if the avoidance diet is the correct response, especially permanently. Certainly, it would help short term, and there may be foods that result in oxalate accumulation that could or should be avoided long term, but an across-the-board and permanent avoidance of most oxalate producing foods seems problematic nutritionally. If we consider that many who suffer from oxalate issues may also be sensitive to other foods, the avoidance approach could limit dietary options considerably. What if we are approaching this issue incorrectly? My gut tells me, and research seems to back it up, that barring genetic issues with oxalate metabolism, the dietary component is not simply one of excess oxalate consumption. It is a problem with inadequate nutrient consumption in the face of excessive non-nutrient foods – e.g. it is a problem with the modern western diet in its entirety.
Other Dietary Contributors to Oxalate Buildup: Processed Foods
If we dig into the oxalate issue a little more, we see that foods resulting in excess oxalate storage are not necessarily limited to whole foods listed above in Figure 1. A number of foods classified as high oxalate, are simply processed food products, high in carbohydrates, trans fats and low in nutrients. Below is a graph of some of the higher oxalate foods as compiled by the University of Chicago via Harvard's School of Public Health. Notice, how processed foods make this list. Sure, their oxalate status is significantly lower than other foods, but consider what portion of the average western diet these products comprise. Click the links above to see a more complete listing foods that result in high oxalate accumulation. When you search through those lists (especially, the one from the University of Chicago), it becomes apparent that virtually all processed foods can result in oxalate problems.
Figure 2. Oxalate Content in Common Foods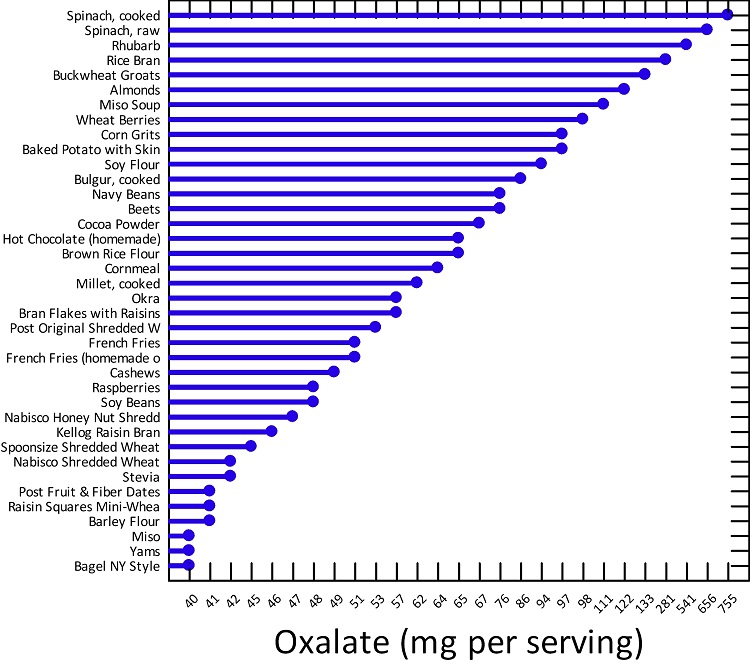 One could argue that oxalate buildup involves shifts in the metabolic pathway that are directly related to nutrient deficiencies and those nutrient deficiencies emerge from the consumption of the modern diet. Processed carbohydrates, for example, in the presence of thiamine deficiency, are metabolized quite differently than when thiamine is present, with the former resulting in oxalate build up. Since a diet high in processed carbohydrates is one of the leading causes of thiamine deficiency in the first place, this begs the question, is the issue really oxalates or a sort of high calorie malnutrition resulting in thiamine deficiency, where oxalate accumulation is just a side-effect. Similarly, when thiamine is absent, fatty acid metabolism can go awry, making highly processed, high carbohydrate, high fat foods damaging on two fronts.
Finally, there are many other foods that can lead to high oxalate production in the presence of low thiamine including: beer, wine, tea, coffee, yogurt, bread, rice, soybean paste, soy sauce, and oil, along with foods that have been fermented, roasted, baked, or fried. And just like high carbohydrate diets can lead to thiamine deficiency, as nature would have it, all alcoholic drinks, coffee, and tea decrease thiamine uptake thereby both creating and exacerbating the thiamine deficiency that leads to oxalate accumulation. It could be that problems with oxalates is simply the early sign of thiamine deficiency and it may very well be a protective mechanism of sorts, a metabolic diversion, albeit an unhealthy one, to forestall the other issues associated with insufficient thiamine intake.
I should also mention that oxalate problems may not be solely related to diet. Inasmuch as all pharmaceuticals damage the mitochondria and either decrease thiamine directly or increase the demand for the need for thiamine indirectly, regular use of pharmaceuticals may also contribute to the problem. Similarly, a number of environmental exposures increase glyoxal (a precursor to oxalate build up in the face of low thiamine), including: cigarette smoke, smoke from residential log fires, vehicle exhaust, smog, fog, and some household cleaning products.
Is Thiamine Really the Problem?
It may be. The chemistry is complicated and detailed below, but basically, marginal thiamine status, prevents the proper metabolism of certain foods leading to the build up of toxins while simultaneously crippling the natural detox pathways. The combination of increased toxins and decreased detox ability leads to all sorts of damage and illness, high oxidative stress, and as illustrated by the graphic below, can lead to cancer (to be discussed in a subsequent article). Thiamine prevents this. A paper published in 2005, (from which Figure 3., is taken) details just how many mechanisms that lead to oxalate accumulation are initiated by low thiamine.
Figure 3. How Low Thiamine Leads to Elevated Glyoxal and Cancer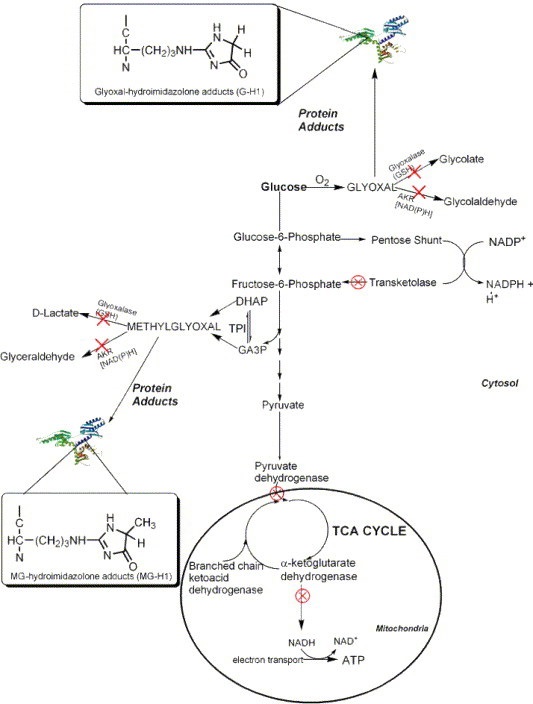 The specifics involve a metabolic diversion that leads 'food' metabolites down what is called the glyoxal pathway, the pathway responsible for oxalates. Each of the red 'X's' indicates an impaired thiamine dependent enzyme.
With Marginal Thiamine
Elevated glyoxal and methylglyoxal

Diminished activity of thiamine dependent enzymes (transketolase, pyruvate dehydrogenase, branched chain ketoacid dehydrogenase, and a-ketoglutarate)

Low transketolase = low NADPH
Low NADPH = low glutathione (the primary detoxification agent in the body; glutathione also requires vitamin C)

Low glutathione = poor detoxification of glyoxal and methylglyoxal = increased carcinogenic protein adducts

High Oxalate Foods

Diminished pyridoxal kinase (PK) activity*

*This is not discussed in the aforementioned paper, but should be included. PK is the enzyme that converts the inactive form of vitamin B6 (pyridoxine 5-phosphate) into its active form, pyridoxal 5-phosphate (P5P). Low P5P prevents glyoxalate from being converted back into glycine, leading to high oxalates. Many mistakenly assume that low vitamin B6 is responsible for high oxalates. While that is possible, it is also possible, and often more likely, that low thiamine is responsible.
With Sufficient Thiamine
Thiamine dependent enzymes work appropriately

Sufficient transketolase activity = sufficient NADPH

Glyoxal and methylglyoxal are metabolized into other substrates and/or excess is detoxified

Sufficient NADPH = sufficient glutathione

Glyoxalate is converted to a-hydroxy-b-ketoadipate or glycine and not oxalate

Alanine glyoxylate amino transferase (AGT), the enzyme required to convert glyoxalate into to glycine instead of oxalate has sufficient activated vitamin B6.
This is not to say that there are not other vitamin and mineral deficiencies also associated with hyperoxaluria, there are. Research has shown that low magnesium (a requisite co-factor in many of same enzymes as thiamine), along with low vitamin A, in addition to the low vitamin B6, mentioned above play a role. Vitamin E may also be involved.
Take Home
The majority of modern illnesses are the result of poor diet and environmental exposures directly, cumulatively, and generationally. Over the span of a few short generations, we have forgotten that food is fuel and that good, clean, unprocessed food is required for health. The allure of processed foods and cheap agriculture through chemistry, has left much of the population starved of nutrients, while simultaneously bearing a high toxicant load. The result is all sorts of metabolic disturbances which may manifest as food insensitivities and intolerances. It is interesting to note that the metabolic changes involved in oxalate buildup do not require what we would consider a full-scale thiamine deficiency, but rather, a sort of thiamine insufficiency initiated by marginal thiamine intake, something that is likely common across populations.
A less complicated overview of the low thiamine > high oxalate connection can be viewed below.
Is Your Body Producing too much Oxalate?
We Need Your Help
More people than ever are reading Hormones Matter, a testament to the need for independent voices in health and medicine. We are not funded and accept limited advertising. Unlike many health sites, we don't force you to purchase a subscription. We believe health information should be open to all. If you read Hormones Matter, like it, please help support it. Contribute now.
Yes, I would like to support Hormones Matter.
Image: Scanning electron micrograph of the surface of a kidney stone showing tetragonal crystals of weddellite (calcium oxalate dihydrate) emerging from the amorphous central part of the stone; the horizontal length of the picture represents 0.5 mm of the figured original. Image credit: Kempf EK – Own work, CC BY-SA 3.0.
This article was published originally on August 15, 2019.