Like
In my ongoing research into connections between maternal DES exposure and male sexual development, I recently obtained a copy of the 1953 Physician's Desk Reference (PDR), a compendium of pharmaceutical products listed together with their manufacturer's recommended usage.
"Physician's Desk Reference is published annually by Medical Economics, Inc., through the courtesy of the manufacturers whose major products are described in section 4. It is distributed to over 130,000 active practicing physicians and the pharmacies and libraries of over 4,000 hospitals throughout the United States and its possessions."
On page 464 is pharmaceutical giant Eli Lilly's entry for DES, which I've scanned and inserted below. Several other manufacturers have their own branded version of DES (for instance, Boyle & Co's "Hi-Bestrol" DES in 25mg uncoated tablets, for threatened and habitual abortion, supplied in bottles of 100 and 1,000). However, I will concentrate on Lilly's entry, since they were the major manufacturer and distributor of the drug, and have provided a lot more detailed directions for prescribing the drug than the other manufacturers.
Uses and Dosing for DES According to its Manufacturer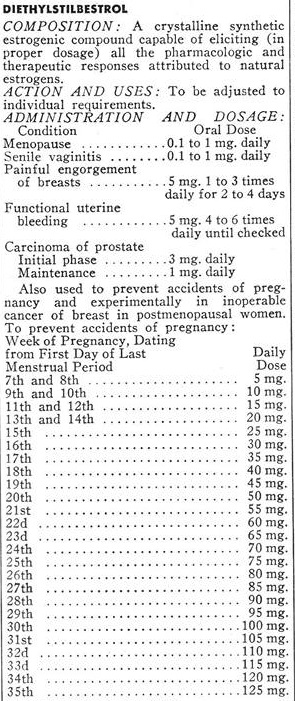 Lilly specifies a variety of uses for DES: Menopause, "senile vaginitis", painful engorgement of breasts, functional uterine bleeding, carcinoma of the prostate, and to prevent "accidents of pregnancy" (miscarriages). In addition, they helpfully provided a recommended dosing schedule, based on the one devised by Drs. George and Olive Smith were two of the chief proponents of the use of DES to prevent miscarriages. The dosing schedule involves a progressively increasing exposure to the drug, starting at 5mg per day, and progressively increasing as the pregnancy continues until it reaches 125mg per day in week 35 (I guess because, after week 35, the baby is sufficiently well developed that it doesn't matter if it is born early).
High Dose DES and the Male Fetus
DES is one of the most powerful estrogens ever developed, and even 5mg represents a high dose. You can tell that by the way most of the other recommended uses involve doses considerably smaller. Treating the symptoms of menopause, for example, involves doses of 0.1 to 1 mg per day. Treatment of prostate cancer (through chemical castration) involves a starting dose of 3mg per day, and a maintenance dose (once testosterone suppression has been achieved) of 1mg per day.
Particularly during the later stages of prenatal development, a male fetus whose mother was given DES according to this schedule was being exposed to many times the dose of DES required to cause complete suppression of testosterone production in an adult man. This is very important, because male development, and masculinization of the brain, are driven by the action of testosterone produced in a male fetus's testicles. Prevent testosterone from being produced, and a genetically male fetus will develop as female instead of male, despite the Y chromosome. This was easily demonstrated by conditions such as Swyer's syndrome and Complete Androgen Insensitivity Syndrome, in which a failure to produce testosterone or a failure to respond to the hormone, results in a person who is genetically male but physically female.
The conventional causes of intersex all tend to act throughout prenatal development. What I believe has happened with DES is that it has caused a form of intersex, but one that is different from any of the usual causes of intersex because it allowed relatively normal male development to take place during the first trimester, but from the end of the first trimester onward, DES exposure was high enough for testosterone production to become profoundly suppressed.
As you can see from the table, by the end of the first trimester, the dose had already reached 20mg per day and was still climbing. Presumably, the placenta provided some protection from the drug, or an early-stage fetus is more resistant to chemical castration by DES than an adult man because 20mg is already several times the induction dose for chemical castration of prostate cancer patients.
Male Genital Development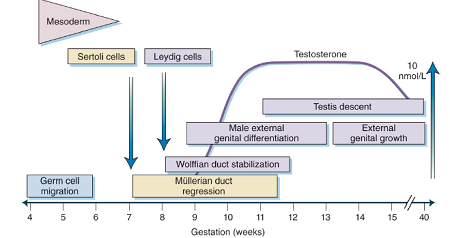 In the figure below, is a chart from an endocrinology textbook showing a timeline of events associated with male physical development. Notice that male external genital differentiation begins in week 7 and has finished by the end of week 12.
During the time genital differentiation is taking place, the main things going on in the brain are very rapid cell division and migration of those cells to their final position in the brain (which is often far distant from where they formed).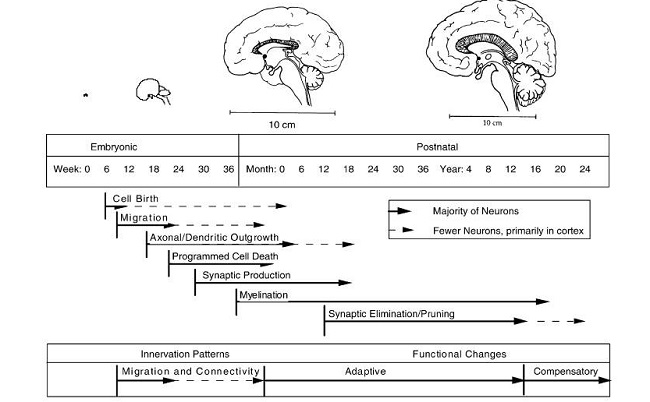 The first elements of the permanent structure of the brain don't start to be built until about 16 weeks after conception, by which time some brain cells have reached their final position and can start to form permanent connections with other brain cells ("Axonal/Dendritic outgrowth"). I'm guessing that there are two ways of wiring up brain tissue: a male way and a female way, and if there isn't testosterone present during the time axonal and dendritic growth are taking place, you get the female version.
A process of programmed cell death starts soon after that, which may also be important for whether you end up with a male or female brain. Perhaps certain cells generate aggressiveness and competitiveness, and they only stay alive when excess brain cells are being removed if there is testosterone present. I look at the way men's faces light up when they're watching competitive sports, and it's pretty obvious that they're experiencing something that I cannot. It makes me think that there could be cells in their brains that generate that "joy of sport", which were culled from my brain because there wasn't any testosterone present when their thumbs up or thumbs down moment arrived.
From these two diagrams, it is evident that the first trimester is the key time for genital development, while brain development with regards to gender comes much later and corresponds with the ever-increasing dosages of DES. With these progressively increasing doses, along with the known effects of synthetic hormones on brain development, a good argument can be made that DES may have produced people who are genetically male and look male but have female brains. From talking to people with a known or suspected history of DES exposure, it certainly looks like that is what happens.
DES was used somewhere in the region of 10 million pregnancies worldwide. The schedule published in the PDR wasn't used in all of them by any means, but it was the manufacturer's recommendation, and many doctors must surely have followed that recommendation. This raises the prospect that there could well be several million people alive today who look male but have female brains, as a result of the use of DES.
We Need Your Help
More people than ever are reading Hormones Matter, a testament to the need for independent voices in health and medicine. We are not funded and accept limited advertising. Unlike many health sites, we don't force you to purchase a subscription. We believe health information should be open to all. If you read Hormones Matter, and like it, please help support it. Contribute now.
Yes, I would like to support Hormones Matter.
This article was published originally on December 12, 2017.