Like
One of the more common questions I get asked is which nutrients do the mitochondria need to function well? This is really two questions. The first involves which nutrients are involved in the enzymatic processes that allow the mitochondria to convert food to ATP and to manage all of the other tasks that they are responsible for like inflammation, immune function, and steroidogenesis. The second question applies specifically to the individual. It is a question of what he/she needs to be healthy. The answers to both are entirely different. While it is true that there are a set of nutrient co-factors involved in the mitochondrial machinery and these are necessary for mitochondrial function for everyone, which ones and how much of each an individual may need to support his or her health varies significantly. Moreover, although there are baseline minimum nutrient requirements that tell us where insufficiency diseases are likely to develop, what determines an individual's health or disease is entirely dependent upon genetics, exposures, diet and lifestyle, and even day to day stress. Here, there is no one-size-fits all prescription for nutrient replacement and supplementation or even diet and exercise. This frustrates folks to no end and I think it is one of the reasons both patients and physicians are so reticent to look toward nutrient supplementation seriously as a therapeutic option.
Both the current model of medicine, and to a large degree, the way we approach nutritional therapies, relies very heavily on the silver bullet approach to health. If we're honest with ourselves, so too do we. It is so much simpler to believe that if we just take X drug or vitamin in Y dose, all of our health issues will disappear and they will disappear at set rate that is linear and predictable. Unfortunately, this is not how the body works. While there is an internal chemistry that requires certain nutrients to function appropriately, that chemistry varies ever so slightly by genetics and is endlessly modified by life itself. There is no one-size-fit-all. There are no magic supplements. There is just your chemistry and your needs.
Since I have written repeatedly on the mitochondria and the reasons why nutrients are required for health, this post will not tackle those topics. Articles on those topics can be found on Hormones Matter with any number of search terms. This information can also be found in the book, Thiamine Deficiency Disease, Dysautonomia, and High Calorie Malnutrition, that I co-authored with Dr. Lonsdale. Here, since many have requested it, I just would like to present a graphic illustrating mitochondrial nutrient requirements. This is from Chapter 3 of our book. Use this as template to understanding your health.
Figure 1. Nutrient requirements for healthy mitochondria.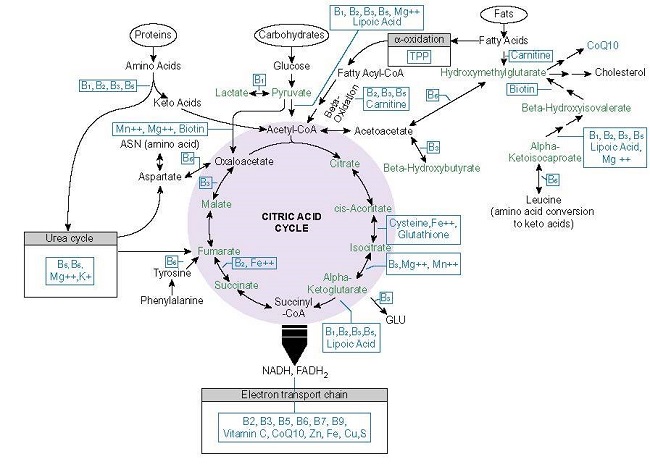 A few things should be pointed out. First, while these nutrients are required by everyone for proper mitochondrial functioning, not everyone needs to supplement with each one, or even sometimes any of them, although that is becoming increasingly rare with modern dietary patterns. Secondly, notice how many times and where vitamin B1 (thiamine) appears in this chart. It is at the entry points of the entire system and at various junctures throughout. This suggests that among all of the nutrients required for healthy mitochondria, thiamine is particularly important. Unfortunately, it is the one nutrient that is so often ignored or missed in testing. Indeed, that is why we wrote the book. Thirdly, notice how many vitamins are required to process the food we eat into ATP. Contrary to popular opinion, we need more than simply empty calories. For the foods we eat to be converted into ATP, there are multitude of vitamins and minerals required that may or may not be included in sufficient density with the macronutrients we consume daily. Finally, not discussed in this chart, but discussed in great detail in the book, synthetic chemicals, whether in form of pharmaceuticals, industrial, environmental, or food production, damage the mitochondria. Some deplete nutrients directly, while others damage aspects of mitochondrial functioning that necessitate increased nutrient density for the enzyme machinery to work. Of course, underlying all of this, are the genetic variables that each of us brings to the table. These influence how well or poorly we metabolize any of these nutrients from the get-go. All of this combines to make nutrient therapies complicated.
What is not complicated, however, is that we need nutrients to function and so, no matter what else we do to improve health, if we do not address nutrient concentrations, we can never be well. Mitochondrial functioning demands nutrients, and thus, health demands the same. Nutrient deficiencies are not something we can override with a pharmaceutical. That being said, addressing nutrient deficiencies holds great promise for those seeking health. If you or someone you love experiences chronic and complicated illnesses that have been treatment refractory, consider healing the mitochondria by tackling nutrient deficiencies. You might be surprised at well this works.
We Need Your Help
More people than ever are reading Hormones Matter, a testament to the need for independent voices in health and medicine. We are not funded and accept limited advertising. Unlike many health sites, we don't force you to purchase a subscription. We believe health information should be open to all. If you read Hormones Matter, like it, please help support it. Contribute now.
Yes, I would like to support Hormones Matter. 
This article was originally published on November 11, 2019.