Like
In a 10-year study of 1392 infertile women, manual physical therapy yielded high pregnancy rates for women in three categories of hormonal infertility. Subsets of participants showed success for women with endometriosis, polycystic ovarian syndrome (PCOS), and high FSH (follicle-stimulating hormone).
The therapy was originally designed to treat pain due to the adhesions that form when the body heals. Adhesions tend to remain in the body, acting like an internal glue after healing has occurred. Adhesions can act like tiny straitjackets, causing pain or dysfunction – including infertility.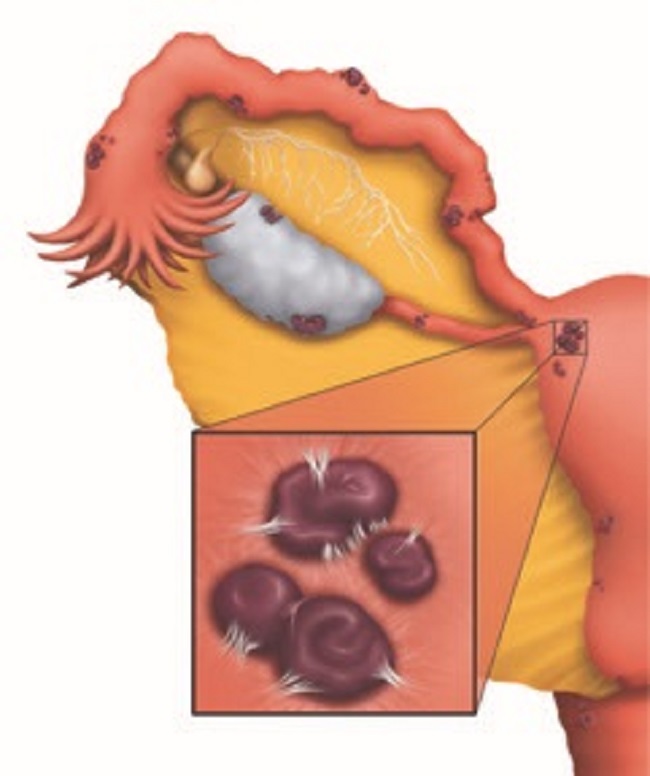 Endometriosis, Infertility and Adhesions
Endometriosis is considered both a mechanical and a hormonal condition, with adhesions frequently accompanying endometrial implants. The therapy is designed to decrease the cross-linking, the tiny but powerful white attachments shown in the drawing. In the 10-year study, 43% (128/299) of the women diagnosed infertile with endometriosis became pregnant after receiving the therapy. This rate compares well to surgical success rates, but without the costs or risks of surgery.
PCOS and Infertility
In the study, 54% (15/28) of women diagnosed infertile with polycystic ovarian syndrome (PCOS) achieved pregnancy after therapy. While this is a smaller subset, this rate is encouraging; it is much higher than the 22% to 33% pregnancy rates achieved after surgeries cited in the study. In surgery for PCOS, the physician will either drill holes in the ovary or remove a wedge-shaped portion of the organ. One reason for the low pregnancy rates after PCOS surgery may be the new adhesions that form as the body heals from the surgery.
High FSH Infertility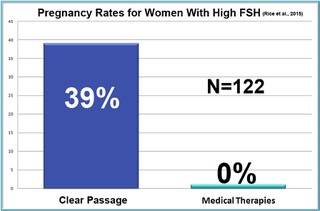 One of the biggest surprises in the ten-year study was in women who were diagnosed hormonally infertile due to high FSH (follicle-stimulating hormone). As a woman approaches menopause, her ovaries demand more and more FSH to stimulate egg growth in older follicles. Measured early in the menstrual cycle, most physicians feel a woman's FSH levels should be at or below 10 mIU/mL. When a woman's FSH is above 10, she is considered unlikely to conceive. At FSH of 25, the woman is generally considered to be menopausal.
In the 10-year 2015 study, a surprising 39% (48/122) of women diagnosed subfertile or infertile due to high FSH became pregnant after receiving the therapy; 43 of the pregnancies were natural, and five were by follow-up IVF.
"The data with these women has been absolutely remarkable" said Belinda Wurn, director for Clear Passage Physical Therapy. "Before this study, nothing in medicine has been shown to improve FSH and fertility naturally. Until now, none of us imagined that a manual therapy could have such profound effects, without surgery or drugs."
The therapy (Clear Passage Approach™) is available at a dozen locations in the U.S. and the United Kingdom. Treatment consists of 20 hours of hands-on care described as "feeling like a deep, site-specific massage." The therapy is often given 4 hours a day for 5 days. For more information, visit clearpassage.com.
We Need Your Help
More people than ever are reading Hormones Matter, a testament to the need for independent voices in health and medicine. We are not funded and accept limited advertising. Unlike many health sites, we don't force you to purchase a subscription. We believe health information should be open to all. If you read Hormones Matter, like it, please help support it. Contribute now.
Yes, I would like to support Hormones Matter.
This article was published originally on August 15, 2017.