Like
The more clearly we can focus our attention on the wonders and realities of the universe about us, the less taste we shall have for destruction.
— Rachel Carson
The Wrack Line: An Ecological Bridge Between Land and Sea
For decades, I've been looking at the unimagined biological and genetic effects on planet earth caused by "better living through chemistry" capitalist mentality. While Rachel Carson's seminal work, Silent Spring, cataloged just one aspect of the plethora of physiological effects on animal life, in 2021 we can confidently state there is so much evidence of all the pollutants, toxins, spewing gasses, pesticides, hormone disruptors, radioactive isotopes, forever chemicals, nanoparticles, fungicides, heavy metals and waste pits conspiring to completely disrupt all manner of life. Microplastics are a key contributor to this problem.
In that process of contemplating this recently, while railing against local older folk who will for Year Two have a Zoom Earth Day (April 22) instead of celebrating this day utilizing our amazing atmosphere and beachside waysides to bring people together, I walked the wrack line. This is that "line" of organic material that ends up on beaches when tides go back out. It is a biologically important micro-ecosystem of seaweeds, crustaceans, shells, decaying birds and fish, and mammals. This wrack line is studied by marine biologists. It provides an amazing supply of food and building components for living crustaceans.
Here on the Coast Surfrider Foundation and other groups have organized beach clean-ups, where the majority of junk found, collected, and disposed of, is plastic. The first part of the instruction for beach clean-up volunteers is to use gloves, and that the plastics can be super toxic, virtual magnets for heavy metals, poisons, and even radioactive materials as they float throughout the ocean and eventually end up on the beach, the wrack lines.
Homo sapiens pick through the wrack line for treasures like polished agates, whole shells, burled driftwood, and seeds from afar. These wrack lines, unfortunately, are now clogged with that deadline by-product of "better living with chemistry," plastics. There is other rubbish from the by-products and by-processes of consumerism and industrialism, but by and far, plastics present the largest problem.
Plastics and Capitalism
The work of artist Chris Jordan on plastics and just on the consumer waste in our capitalist consumer society is amazing. His documentary, Albatross, stays with me as I walk the wrack lines on the Central Oregon Coast. I've walked wrack lines all over the world, and been in places where plastic bags and single-use plastic containers and bottles have destroyed ecosystems, on beaches, in harbors, and along riverways.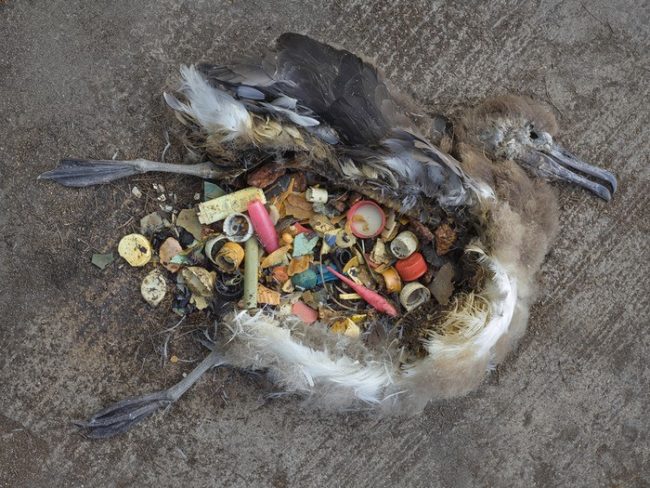 As a diver, an environmentalist, a deep green sustainability proponent, and as a journalist and teacher, and someone with a load of urban and regional planning under my belts, the reality for me is we have been at war with nature, with ourselves. Plastic is yet another symbolic manufactured element that is emblematic of our capitalism gone wild. Plastics are the thing of fossil fuels, and heavy natural gas consumption. Those fancy polymers are more than just a physical eyesore in the form of Pepsi bottles and single-serving ketchup packets. Every hour of every day, we touch plastic. Just imagine what teeny-tiny bits of plastic could do to our brains. This stuff is crossing the blood-brain barrier and is causing untold havoc on the human biological ecosystem. It is also linked to:
Deep Sea Plastics
Last year, I viewed online a Remote Operated Vehicle filming the deepest part of the globe, the Mariana Trench, with ghostly images of single-use plastic shopping bags floating by. It wasn't a surprise, since I have been a scuba diver for more than 45 years. That revelation was, however, yet another cut in the 10,000 cuts of spiritual and intellectual death people like me have to steel themselves from.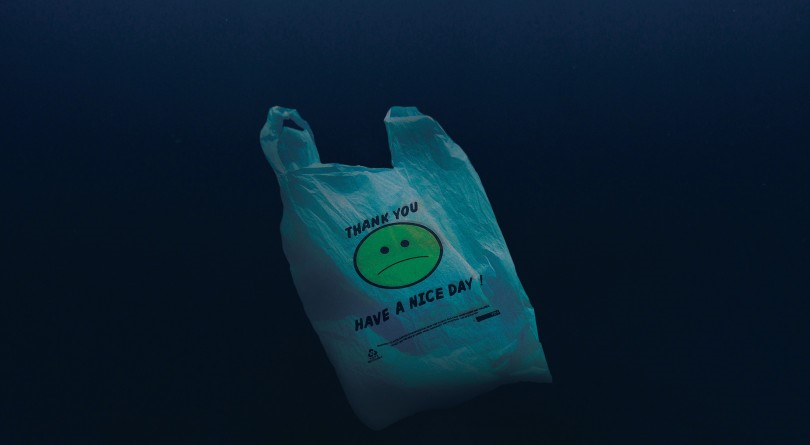 The Consequences of All of This Plastic
Microplastics have been found in the liver, lungs, spleens, and other organs of humans and as one might expect, in feces too. BPA, also known as bisphenol A, is a chemical in the production of plastics. It is a reproductive, developmental, and systemic toxicant in animal and human studies. BPA levels in humans have been dramatically underestimated.
 It would be naïve to believe there is plastic everywhere but just not in us, said Rolf Halden at Arizona State University. We are now providing a research platform that will allow us and others to look for what is invisible – these particles too small for the naked eye to see. The risk [to health] resides in the small particles.
This bioaccumulation in tissues, that is, in the animals we eat, like tuna or salmon, is also part of the bioaccumulation of plastic particles in the food we eat, the air we breathe, and the water we drink. The US Environmental Protection Agency is concerned about BPA because "it is a reproductive, developmental and systemic toxicant in animal studies". The researchers examined lung, liver, spleen, and kidney tissue as these organs are likely to be exposed to microplastics or collect them.
We never want to be alarmist, but it is concerning that these non-biodegradable materials that are present everywhere [may] enter and accumulate in human tissues, and we don't know the possible health effects," said Varun Kelkar of Arizona State University, part of the research team.
Just how is all of that plastic getting into our systems? With everything, we eat and drink. The latest research found:
Evaluating approximately 15% of Americans' caloric intake, we estimate that annual microplastic consumption ranges from 39000 to 52000 particles depending on age and sex. These estimates increase to 74000 and 121000 when inhalation is considered. Additionally, individuals who meet their recommended water intake through only bottled sources may be ingesting an additional 90000 microplastics annually, compared to 4000 microplastics for those who consume only tap water.
The Great Pacific Garbage Patch: An Emblem of Plastic Pollution
The Great Pacific Garbage Patch is the largest accumulation of ocean plastic in the world and is located between Hawaii and California. It is the result of the billions of tons of plastic released into the environment since the 1950s. In total there are five large gyres around the world, so-called floating garbage patches where current and wave and wind conditions are set to harmonize where some of the refuse humans create end up as these dumps for anything that floats, plastic and its components being a large percentage of floating junk.
This is emblematic of the problem of throw-away societies and rampant consumerism that is predicated on disposability or one single-use product. As we can see, this is not just an eyesore – these plastics get ground down by wave action, wind, and sun, along with the chemical reactions of all of that combined. Hence, the very concept of micro-plastics ending up in the food chain, which ends up in humans as the apex predator or high on the food chain consumer. This article talks about how plastics and their components get to the human biome through more direct ways like plastic-lined canned foods, PFAS, and BPA. Breathing plastics from all the plastic fibers in clothes, furniture, carpeting, and other consumer sources is yet another vector that has created the Plastic Human.
The reality is we do not know all the possible negative health outcomes of microplastics alone, as opposed to microplastics mixing with all those nanoparticles and the other chemicals coming into play in human physiology. The convenience of plastic bottles and pipes in our homes represents the cancers of the future. Those plastics in the belly of whales, birds, and albacore are the bio-accumulated toxins in our daily meals. We don't need to study the great Pacific plastic gyre to understand how plastics break down, unseen, or subsurface. We will at some point have more plastic particles in the oceans than all the organic biomass. These are not the fictions of Ursula La Guinn or Margaret Atwood. They are readily visible to anyone who looks, but there are especially visible at the wrack lines, where land and sea meet.
We Need Your Help
More people than ever are reading Hormones Matter, a testament to the need for independent voices in health and medicine. We are not funded and accept limited advertising. Unlike many health sites, we don't force you to purchase a subscription. We believe health information should be open to all. If you read Hormones Matter, and like it, please help support it. Contribute now.
Yes, I would like to support Hormones Matter. 
This article was published originally on April 20, 2021.