Like
In a previous piece, I discussed some of the problems that could occur when supplementing with a particularly potent form of thiamine called tetrahydrofurfuryl disulfide or TTFD. Specifically, we examined how TTFD can temporarily deplete glutathione (GSH) and increase the recycling requirements (using activated riboflavin and NADPH). I also provided some recommendations for how one might improve this initial processing of TTFD in cells. Following on from that, we will now look at the next phase of TTFD processing to help pinpoint some of the reasons why some people suffer negative reactions when beginning supplementation. In short, the clearance of TTFD breakdown products requires adequate methylation capacity and many individuals who are thiamine deficient have insufficient methylation.
From Glutathione to Methylation
Once TTFD has been reduced (or "broken apart") by glutathione (GSH), it is further bound or conjugated with more GSH, likely using the enzyme glutathione-s-transferase. This reaction produces a conjugate called glutathione tetrahydrofurfuryl disulfide (GTFD).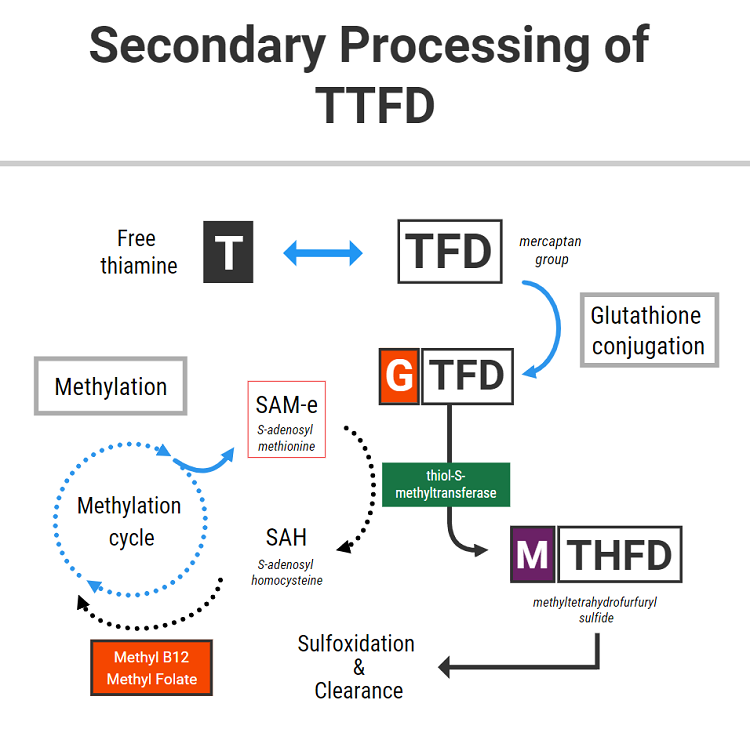 The above diagram shows that this GTFD conjugate then needs to be methylated. Methylation is the process by which a methyl group is attached to its structure from a donor molecule (a "methyl donor"). The major methyl donor in cells is called S-adenosyl methionine, commonly known as SAM-e.
SAM-e is generated through a biochemical cycle called the methylation cycle. Dietary protein provides amino acids, one of which is methionine. Through combining with ATP, methionine can be "activated" to generate SAM-e. SAM-e possesses a methyl group, which it then donates to a variety of different molecules via methyltransferase enzymes. In simple terms, attaching a methyl group to a molecule serves to change its function in some way.
After having donated its methyl group, SAM-e becomes SAH (S-adenosyl homocysteine) and later homocysteine. Homocysteine can either be recycled back to methionine with the use of multiple nutrients (including folate and vitamin B12), or alternative can be drawn down through the transsulfuration pathway to generate cysteine.
The newly recycled methionine can further serve as the source of more SAM-e, which continues to be utilized in methylation reactions. This is ideally how the process should work.
Methylation is involved in DNA base synthesis, gene expression, detoxification, neurotransmitter production/clearance, and many other processes. As SAM-e is the major cellular methyl donor, cells must maintain a consistent level of SAM-e to fulfill those functions.
Since methylation is required for the synthesis and clearances of neurotransmitters and maintaining neurochemical balance in the brain, it is thought that changes in methylation status can be responsible for the underlying neurochemical abnormalities present in various psychiatric disorders. For the above reasons, SAM-e has been used effectively as a fast-acting anti-depressant medication and is also useful as an anxiolytic agent in specific cases.
In the context of longstanding deficiencies in the nutrients required to maintain a healthy methylation cycle, a relative inability to recycle homocysteine can yield elevated levels of homocysteine and consequentially less SAM-e. And because SAM-e is the primary methyl donor in the cell, methylation (and by definition, all of the many processes which require methylation) can become compromised.
TTFD and SAM-e
The above information is relevant to this topic because the breakdown of TTFD requires adequate levels of SAM-e. Through the enzyme thiol-s-methyltransferase, SAM-e donates a methyl group to GTFD to generate methyl tetrahydrofurfuryl disulfide (MTHFD). MTHFD is then later funneled through the sulfoxidation pathway in the liver to be cleared primarily through the urine.
The nuts and bolts of this: TTFD metabolism can deplete SAM-e. A lack of SAM-e could potentially help to explain some of the following side effects which are common with this therapy – including insomnia, anxiety, agitation, restlessness, flat mood, fatigue, and/or mild depression.
Oftentimes, it is assumed that these symptoms are caused by an inability to process the sulfur content of the molecule, or are simply a manifestation of the "paradoxical reaction". Sometimes it subsides within a few days or weeks, whereas other times it doesn't. The reason for this, in some people at least, might relate to changes in methylation status.
Furthermore, by using up SAM-e, TTFD could also theoretically increase the requirement for some of the other nutrients involved in the methylation cycle. These might include the B complex vitamins, particularly folate, riboflavin, and vitamin B12.
Clinical Experience Suggests A Relationship Between Methylation and TTFD Response
I recently had a client who explained that supplementing TTFD initially produced great increases in mental clarity, energy, and almost euphoria. However, within a few days, this shifted towards feelings of "depletion", flatness, depression, and cognitive impairment. The individual described the symptoms as remarkably similar to those produced by other supplements which are referred to as "methyl buffers" – capable of affecting methylation capacity. For this same individual, the remedy was to supplement with extra methylfolate and methylcobalamin (vitamin B12) to increase methylation.
And so, might this be one of the mechanisms by which TTFD therapy can go on to "unmask" an underlying folate/B12 deficiency in some people? Dr. Lonsdale has documented cases of folate deficiency being "unmasked" in some people after undertaking thiamine therapy. I have also seen this on several occasions, and I suspect in some cases, it might be somewhat related.
Secondly, a lack of SAM-e can then theoretically produce neurochemical changes which are potentially responsible for sudden feelings of anxiety or depression that some people tend to experience.
This would especially apply to those people who already have compromised methylation, or tend towards lower levels of SAM-e, folate, B12, or a combination of all three.
To conclude, this highlights the importance of B complex therapy in conjunction with TTFD, as well as monitoring nutritional status at regular intervals if experiencing negative symptoms or side effects from this nutrient. If you are one of the people who experience depression or anxiety from taking the TTFD form of thiamine, then you might want to try investigating methylation status, or experiment with methylfolate, methyl B12, betaine, or SAM-e.
We Need Your Help
More people than ever are reading Hormones Matter, a testament to the need for independent voices in health and medicine. We are not funded and accept limited advertising. Unlike many health sites, we don't force you to purchase a subscription. We believe health information should be open to all. If you read Hormones Matter, and like it, please help support it. Contribute now.
Yes, I would like to support Hormones Matter. 
Image by Michael Schwarzenberger from Pixabay.
This article was published originally on January 7, 2021.