Like
Individuals who have been chronically ill often show varying degrees of thiamine insufficiency ranging from functional deficiencies where, due to the energetic demands of an illness, diminished capacity of transporters and/or enzymes, and/or the high degree of oxidative stress, the need for thiamine outstrips the supply available via diet alone, to quite severe and frequently longstanding frank thiamine deficiency disease processes like beriberi or Wernicke's encephalopathy. Depending upon the origins and chronicity of the deficiency, thiamine replenishment outside of hospitalization can be challenging and yet this is where it must take place, as physicians are reticent to consider or treat thiamine deficiency in office or hospital. Thiamine deficiency is neither recognized in the population nor accorded the resources required to resolve and as a result, patients are left to navigate the illnesses brought on by thiamine deficiency independently.
For some, thiamine supplementation is a simple process that nets noticeable improvements in symptomology almost immediately. For others, however, the process is grueling and marked by a period of time where symptoms become noticeably worse before improvement is seen. Replenishment of thiamine in longstanding deficiency, particularly when the heart is affected, is prone to a variety of 'refeeding syndrome' – type responses. Conventionally, refeeding syndromes involve disturbances of potassium, magnesium, and phosphate and develop when nutrients are re-introduced after a period of absence-based malnutrition, e.g. some form of starvation (see Figure 1.).
Figure 1. Refeeding syndrome.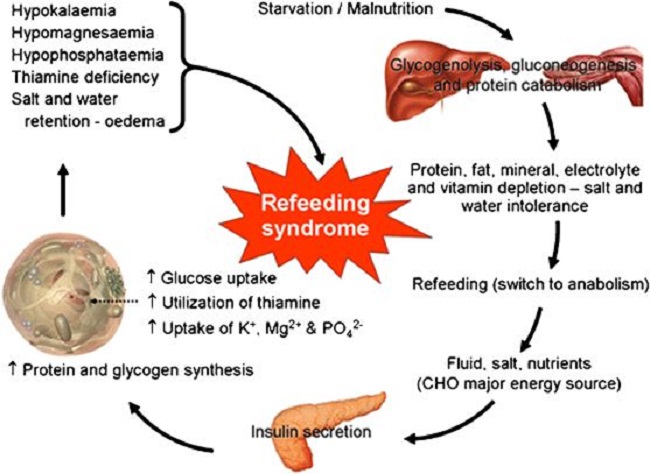 Symptomatically, these disturbances clearly affect heart function with troubling changes in rate, rhythm, and pressure. I suggest that the responses we see with more modern examples of chronic thiamine deficiency are generally caused by a higher calorie type of malnutrition; one where sufficient calories may be ingested absent sufficient nutrients. This is process is likely to be metabolically different than that of starvation or malnutrition. This means that while electrolyte disturbances often coincide, there may be other factors involved as well; factors that have yet to be fully understood.
Although the symptoms of refeeding noted in the high-calorie types of malnutrition may cause similar disturbances to heart function as the starvation-originated refeeding syndromes, given the distinct metabolic origins of these processes, different responses may be necessary. In some cases, the refeeding-like syndrome may be related to the formulation of thiamine used to treat the deficiency. There are several reasons for this, and our good friend Elliot Overton has begun to elucidate some of the chemistry involved. Across formulations, however, for a subset of patients thiamine repletion distinctly affects heart function even at micro-doses. Given that these patients are notably deficient in thiamine, that thiamine deficiency is absolutely requisite for mitochondrial function, for heart function, and for life itself, and its absence is directly associated with heart failure, how does one replenish thiamine when even the smallest dose sets off a cascade of troubling reactions?
With conventional treatment of wet beriberi, thiamine deficiency that affects the function of the heart, high doses of IV thiamine are provided for several days to a week in hospital, followed by high doses of oral thiamine for an extended period of time. The literature is rife with examples of success stories following this type of protocol. Absent from these case reports are instances of negative cardiac reactions to the high-dose thiamine. This suggests either these types of reactions do not occur by some function of the higher dosage, that they do occur but are mitigated by close consideration of electrolyte balance and/or other variables, or that they do occur but are simply not reported. Whatever the reasons, this would be useful information to practitioners and patients alike.
Assuming that these types of reactions occur, it is not clear why or by what mechanisms, beyond, of course, the electrolyte disturbances noted in refeeding of formerly starved individuals. This is important because while traditional interpretations of thiamine deficiency consider it rare and specific to a particular subset of patients for whom general nutrition and nutrient absorption is problematic (alcoholics, gastric bypass patients, parenteral feeding, anorexics, poverty-based malnutrition/starvation, pregnancy, with and without hyperemesis, and critical illness), it is not clear how those who develop beriberi in the presence of sufficient caloric intake, but with longstanding illness, differ metabolically from the traditional patient reported in the literature. And really, if we are honest with ourselves, we do not know much about the processes leading up to what are considered the more emergent cases of thiamine deficiency or even about the cases of heart failure where thiamine deficiency was likely a contributing factor but never considered. We have these pat, fully enshrined ideas about the 'what and why' of thiamine deficiency but rarely consider if or whether we know what we think we know.
With all of that in mind, I have been looking into potential mechanisms involved in the remodeling of heart tissue and function relative to longstanding thiamine insufficiency and the problems associated with thiamine treatment in these patients. I have observed that for some individuals, including those who have tested positive for thiamine deficiency and who clearly need thiamine, the addition of even the minutest amount of thiamine sets off a cascade of reactions that affect the pressure, rate, and rhythm of the heart. In these individuals, who may or may not have had previous, or at least previously recognized symptoms associated with cardiac function, the irregularities pose a difficult challenge for recovery; one for which the current literature has few direct answers.
I suspect these reactions involve an inability to smoothly switch from a previously hypoxic state to a marginally more normoxic one. I suspect also that the problem involves disturbed calcium (Ca2+) management adapted to the hypoxic environment that is then forced to re-equilibrate rapidly once respiration and oxidation kick on. Perhaps the response is akin to an ischemia/reperfusion process but one where longstanding molecular adaptations are involved versus an acute constriction of blood flow and oxygen. Regardless of the difference in time and scale, both the cause and the consequence involve altered Ca2+ flux, which is arrhythmogenic. If this is the case, it still begs the question about how we proceed with thiamine repletion, and perhaps also, how do we identify those most likely to respond negatively to thiamine? I do not have the answers to those questions yet, but perhaps if we unpack the relationship between mitochondrial function and calcium regulation we might find clues.
Mitochondrial Competence and Calcium Regulation
Calcium regulation depends upon functioning mitochondria and a steady stream of ATP. Mitochondrial functioning, in turn, depends upon the appropriate concentrations of Ca2+. The relationship between the two is reciprocal and dynamic. Failure in either leads to failure in both.
Mitochondrial nutrient deficiencies lead to reduced energy metabolism and utilization and ultimately molecular hypoxia. Since the heart requires an enormous amount of energy to maintain constant contractility, upwards of 15 times its weight in ATP – or about 6kg, every single day, mitochondria play a prominent role in heart function.
In the cases I see, presumed issues with Ca2+ mismanagement likely correspond to longstanding deficits in mitochondrial energetics evolving from some degree of metabolic inflexibility of the cardiomyocyte specifically, but likely, systemically. This metabolic inflexibility is both a consequence and a cause of insufficient thiamine, and likely other nutrients, that ultimately depress mitochondrial function and the capacity to produce ATP. The reduction in ATP then evokes a cascade of adaptive reactions, among them is a switch in fuel preference in the heart itself, from fatty acid oxidation to an increased reliance on glucose and anaerobic glycolysis; patterns consistent with systemic metabolic disruption. Additionally, the breakdown of amino acids is disrupted, leading to an accumulation of branched-chain amino acids, which further imperils energy production but also protein synthesis cascades. Finally, the decreased oxidative capacity that diminishes ATP output then continuously influences and is influenced by, Ca2+ dynamics creating a cycle of dysfunction. Arguably, it is these changes in mitochondrial metabolism that force alterations to cell and tissue morphology leading to the grossly observable pathology in later-stage heart failure.
Calcium Dynamics, Mitochondria, and the Heart: A Deeper Dive
Calcium dynamics in the heart are directly tied to the mitochondria at a number of junctions. Broadly, at physiological concentrations, Ca2+ activates oxidative phosphorylation (OXPHOS), e.g. ATP production. At supraphysiological concentrations, however, as we might see locally in the cardiomyocyte during the progression of heart disease to heart failure, Ca2+ inhibits OXPHOS. The inhibition of OXPHOS would presumably drive the shift in fuel source ultimately associated with heart failure. It would also drive calcium uptake, both by the mitochondria and sarcoplasmic reticulum (SR), altering cardiomyocyte contractility patterns. As mentioned previously, Ca2+ management by the mitochondria and SR are profoundly energy/ATP intensive processes.
Decrements in ATP availability, then lead to the poor uptake of Ca2+ by the mitochondria and SR, which then results in excess intracellular Ca2+ and impaired relaxation of the cell. This leads to high oxidative stress and increased reactive oxygen species (ROS) output; a pattern likely seen systemically. The high oxidative stress load caused by the overload of Ca2+ eventually stimulates mitochondrial permeability transition pore (mPTP) opening and mitochondrial swelling, resulting in mitochondrial injury, apoptosis, cardiac remodeling, and ultimately, the development of heart failure. Interestingly, a study in rodents found that with marginal thiamine insufficiency, the ensuing accumulation of pyruvate opened the mPTP but in a low-conductance state that apparently does not lead to cell death. The authors postulate that this may be a protective response that tempers the excess pyruvate and conditions the heart to reduced oxygenation.
Among the mechanisms by which Ca2+ regulates OXPHOS, all are nutrient-dependent; nutrients that are likely insufficient in metabolic disease and the progression to heart failure (see Figure 2.).
Figure 2. Mitochondrial nutrients.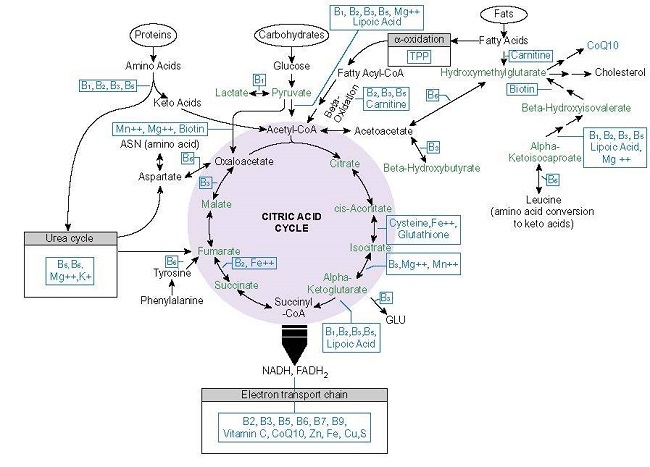 Moreover, each of these enzymes is activated appropriately only in the presence of the requisite nutrients and at low levels of Ca2+. At a higher concentration of Ca2+ and/or in the absence of the other nutrient cofactors, Ca2+ inhibits these enzymes, effectively shunting ATP production.
In sum, the relationship between the mitochondria and Ca2+ regulation is largely dependent upon the presence of critical micronutrient cofactors. Insufficiencies imperil ATP production and Ca2+ management, which then leads to a cycle of dysfunction likely at play in heart failure.
Calcium Capture and Release by the Sarcoplasmic Reticulum
If we move out of the mitochondria into the cytoplasm, we see similar sequences of events play out in the SR. The SR within the cardiomyocyte bears the brunt of responsibility for Ca2+ management in normally functioning hearts. Indeed, some research suggests that it is only when things go awry that the mitochondria step in to become the primary Ca2+ sinks, sequestering the excess. Otherwise, mitochondrial Ca2+ stores reflect those of the cytosol due to the constant influx and efflux of the cation via a number of transport channels, uniporters, and exchangers.
Here again, Mg2+ is involved. Magnesium, it appears, competes with Ca2+ at the ryanodine receptor, a critical Ca2+ receptor in the SR, to inhibit the release of intracellular Ca2+, and essentially temper Ca2+ activation/release. As with the mitochondria, SR activation is possible only at low concentrations of Ca2+ and when Mg+ and ATP are complexed together. High concentrations of Ca2+ inactivate the receptor, inhibiting the further release of Ca2+ into the cell. Similarly, high concentrations of Mg2+ also inhibit the receptor. All of this has to be exquisitely timed and balanced. Too much or too little, too soon or too late induces asynchrony in the contractility of the heart muscle and is one of the variables in the progression to heart failure.
Of note, caffeine increases the sensitivity of the ryanodine receptor by ~20-50 times. This means that less Ca2+ is required to open the receptor and release Ca2+ stores, potentially leading to high intracellular Ca2+ levels. Coffee and tea, the two more popular carriers of caffeine, are also high in thiaminase, a thiamine breakdown enzyme. Given how many of us are addicted to coffee and the caffeine it holds, this is problematic for both thiamine maintenance and heart function.
Problems with Thiamine Repletion
With all of this, I still have no idea what is causing the negative reaction to thiamine repletion in some patients. I do have a few ideas though, but none are fully worked out just yet. My gut tells me it is a matter of too much too soon and an inability to smoothly switch from the previously hypoxic state that relied on anaerobic glycolysis for ATP to a more normoxic state and an upregulation of OXPHOS. To that end, I suspect that the problem rests with three variables, the lack of substrate fuels for the newly upregulated OXPHOS (glucose and fatty acids), a lack of additional micronutrients (riboflavin, niacin, and magnesium, but possibly also Coq10) and an inability to manage the increase in carbon dioxide resulting from the increased oxygen utilization. All of this, of course, would impact Ca2+ homeostasis. I suspect the key roadblock in the process is alpha-ketoglutaric dehydrogenase, both as a rate-limiting complex in ATP production, ROS regulation, and Ca2+ regulation, but also, I suspect it is somehow tied to the regulation of the carbonic anhydrase enzymes that manage blood gas exchange. How though, I am not sure.
First possibility: Thiamine kick starts previously quiescent enzymes increasing ATP production via OXPHOS and Ca2+ induced excitation begins. Rather than appropriately sequester excess Ca2+, the longstanding reduction of Ca2+ in the cell is suddenly upregulated by SR receptor open time. That then feedbacks and shuts off the alpha-ketoglutaric dehydrogenase complex, which would again reduce ATP, while simultaneously increasing ROS. Alpha keto glutarate is a primary anti-oxidant next to glutathione. Elevated ROS and mitochondrial Ca2+ underpin several variables in heart failure including hypertrophy, fibrosis, and contractile dysfunction. If thiamine is given with insufficient magnesium and the other nutrients required for proper mitochondrial functioning (Figure 2.), alpha-ketoglutaric dehydrogenase would become inhibited or asynchronous to the relative increase in thiamine and Ca2+.
Second possibility: the increased thiamine fails to initiate OXPHOS sufficiently and continues to feed the anaerobic cycle shunting more pyruvate to lactate dehydrogenase with an ensuing buildup of lactate and a yet insufficient amount of ATP. With longstanding thiamine deficiency and metabolic dysfunction, the fuel preference of the heart adapts and switches from a primarily fatty acid-derived form of oxidation (60-70% fatty acid preference over glucose) to one that is entirely dependent upon large amounts of glucose via anaerobic fermentation. The shift back would be difficult, especially if thiamine is given quickly and in large amounts, or possibly any amount, absent the other nutrient co-factors. While thiamine is critical in the first steps of fatty acid metabolism, in alpha oxidation, to get through beta-oxidation, one needs carnitine, and vitamins, B2, B3, and B5. Absent those co-factors, and importantly, absent the substrate fatty acids to metabolize, we might yet get held up. Conceivably, this might also happen absent sufficient glucose to sustain the long-entrenched baseline production of ATP via anaerobic metabolism while OXPHOS is upregulating. While glucose is typically contraindicated in the thiamine repletion, as it is often a causative factor in the shifted metabolism in the first place, it is possible that in some instances it may be warranted. If the heart's preferred substrate is not available then no matter how much we upregulate the OXPHOS pathway, energy production would falter.
Third possibility: Here, I have not yet fully put the pieces together, but briefly, it is likely the longstanding thiamine deficiency changes the regulation of blood gases and that this shift is problematic when oxygen status changes. We know that thiamine deficiency stabilizes the hypoxia-inducible factor (HIF) proteins. HIF proteins are the key regulators of the hypoxia cascades. That means, the absence of thiamine causes a sort of molecular hypoxia, an inability to utilize oxygen for the production of energy and to traffic it appropriately in the hemoglobin >oxyhemoglobin. In the case of longstanding thiamine insufficiency or deficiency, we have all of these underlying adaptations that have come into play to compensate, including those involved in the management and usage of oxygen. Since thiamine modulates this process and has been noted to be a carbonic anhydrase inhibitor both deficiency and excess would be problematic. I suspect that when we shift one side of the equation e.g. add thiamine back to the process, effectively upregulating the use of O2 and the production of ATP, the compensatory reactions of the other side, the re-regulation of Ca2+ and the carbonic anhydrase (CA) enzymes, falters. The CA  enzymes are responsible for balancing the consumption of O2 with the production of carbon dioxide (CO2). Asynchrony here would be problematic. This in turn would stress mitochondria and evoke a whole host of potentially negative reactions. Among them, I think alpha-ketoglutaric dehydrogenase downregulation is a part, but I have no evidence of this yet.
That is what I have thus far. As I continue to put pieces together, I will publish subsequent posts. For now, though, I think the key takeaway is that when replenishing thiamine, we have to be cognizant of the other macro and micronutrients involved in the production of energy, except in acute, immediately life-threatening cases, proceed thoughtfully. What that means clinically, and to those individuals for whom even the slightest amount of thiamine sets off deleterious reactions in the rate, rhythm, or pressure of the heart, I do not yet know. Perhaps others will chime in with theories.
We Need Your Help
More people than ever are reading Hormones Matter, a testament to the need for independent voices in health and medicine. We are not funded and accept limited advertising. Unlike many health sites, we don't force you to purchase a subscription. We believe health information should be open to all. If you read Hormones Matter, and like it, please help support it. Contribute now.