Way back in the good ol' days, we learned about vitamin D intoxication as part of the differential diagnosis for hypercalcemia. But in our present time, we hear more often about vitamin D deficiency, especially given our propensity to work indoors and slather ourselves w/sunscreen prior to stepping outside. Don't get me wrong, I'm all for sunscreen to minimize the risk of skin cancer (and those dreaded wrinkles), but I suspect that one unintended consequence is vitamin D deficiency.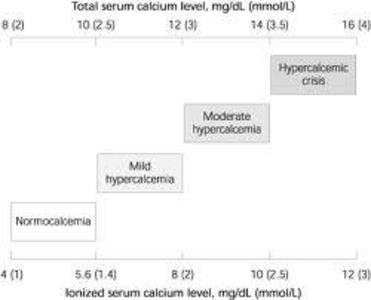 Given how much press vitamin D has received over the last several years, and given the push by nutraceutical supplement manufacturers to promote their wares as necessities to improve our lifespan, and given that no manufacturers have to prove safety, much less efficacy, in their products before bringing them to market (they're natural, after all!), it amazes me that we haven't heard more frequently about vitamin D (and other fat soluble vitamins) intoxication (although we've heard plenty about other contaminated supplements), typically manifest as hypercalcemia. So perhaps, the manufacturers are finally doing their part?
In an article published early online prior to print next month in JCEM, the authors report of two patients presenting w/severe hypercalcemia. In both cases, each patient denied taking any medications. It was only upon repeated questioning that they admitted to taking dietary supplements. In fact, these were prescribed outside their local area, in one case, by someone out of this country, and in the other, via Internet. More importantly, one of the patients didn't think to mention his hormones until much later when asked repeatedly about medications.
Depending upon the laboratory equipment used, the normal reference range for 25OH vitamin D can be 30-80ng/mL. One patient presented with a level at 1,220ng/mL while the other had 645ng/mL.
No wonder they were symptomatic of hypercalcemia! And through no fault of their own since one manufacturer labeled its product as containing 1,600IU when it actually contained 186,400IU per serving upon independent testing. The other product was labeled as 1,000IU per serving but independent testing demonstrated 970,000IU.  Of course, neither product had passed United States Pharmacopeia testing or some other 3rd party oversight.
Lest you think otherwise, I'm all for supplementing appropriately, but under supervision using products manufactured under 3rd party oversight. Check and be sure that your supplements have the appropriate stamp. It's not an absolute guarantee against manufacturing issues, but it's the best we have at this time. And depending upon your perspective, tell your family physician about all your nutritional supplements or ask your patients specifically about the same (and hormones, too).
About the author: Dr. Alvin B. Lin served as a Clinical Assistant Professor in the Department of Family and Community Medicine at the University of Nevada, School of Medicine since 2004 and recently became an Adjunct Assistant Professor of Family Medicine and Geriatrics at the Touro University Nevada College of Medicine.  Along the way, he has written many articles, given many presentations, and made himself available to both patients and colleagues.  He plans to continue more of the same (but without the middle-man!). http://alvinblin.blogspot.com
Editors Note: This article was previously posted on alvinblin.blogspot.com