Like
The wrack line is that "line" of organic material that ends up on beaches when tides go back out. It is a biologically important micro-ecosystem of seaweeds, crustaceans, shells, decaying birds and fish and mammals. When I need to think, I walk the wrack line. The idea for this environmental series comes from those walks; walks that for the past two years have conjured up all sorts of topics for me. Many are worthy of many books. It is a simple walk I conduct on a calm, mostly sandy, and driftwood-strewn beach in Central Oregon. The solitude allows some of my own decades studying environmental harms to both animals and plants to filter through my thoughts. For this short essay, the topic is conventionally grown potatoes, which are now grown largely as a monoculture product and have been found to contain 35 separate toxic chemicals.
The Potato Monoculture
I was just talking with an 80-year-old woman whose father's side of the family, all 56 of them, were murdered in Germany's death camps. She grew up in Chile, and alas, ended up Oregon. She is working on stopping the aerial spraying of 2-4-D and other weedicides onto the clear-cuts. She remarked at how insane the world is with so much lack of common sense and connecting of the dots when it comes to our factory/industrial food systems. She held up a potato:
"How did it ever become normal to use poisons on our food? Poisons that have a direct vector not just to your gut and mine, but to the developing guts and brains of fetuses?"
Oh, that potato! Originally from Peru, the potato has crossed oceans and ended up in every part of the globe.
Only two things in this world are too serious to be jested on, potatoes and matrimony.
—Irish saying.
Now, they are genetically engineered,  and part of the monoculture that triggered the Great Famine, also called the Irish Potato Famine. Then, the Irish used a single breed of potato called the Irish Lumper. It was vulnerable to a fungus to which the breed had no resistance. Other cultures, farming practices over come this vulnerability by growing many different variety of each crop. The Peruvians, for example, grow many hundreds of varieties. The diversity of breed/varieties is what keeps a single fungus or other pests from decimating a food stock.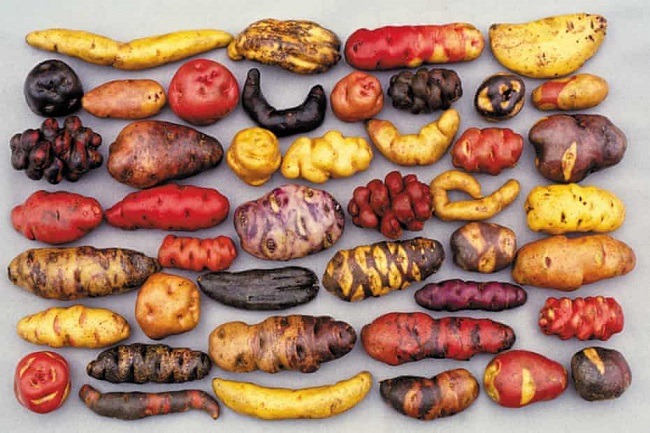 In the US, however, we grow only few varieties of potatoes, making them sensitive to all sorts of microbial threats and because we rely so heavily on chemical solutions for these threats, we have decimated the soils in which these crops grow. Many of the problems with conventional potatoes are tied to the fact the soil has been so eroded and robbed of nutrients, that there are no natural fungi or bacteria left. This means that ungodly amounts of chemical fertilizers have to be applied each season to contain the growth of super predator weeds and microorganisms. Each year, the amount of chemicals required increases.
But it's the pesticides, man! Leave my spuds alone.
Just how many chemicals are there in a conventionally grown potato? According to the USDA's Pesticide Data Program, conventionally grown potatoes carry 35 different pesticides. As is true of many of the plastic compounds, these pesticides have some lethal side effects:
One herbicide, chlorpropham, is used to stop the growth of weeds and to inhibit potatoes sprouting. Chlorpropham is found on up to 80 percent of all conventionally-grown potatoes. According to the Extension Toxicology Network, this poison is toxic to honey bees. In labs, tests bare out the effects of chronic exposure to the herbicide where the animals show "retarded growth, increased liver, kidney and spleen weights, congestion of the spleen, and death."
Poison Potatoes
All those poisons, then, are integrated into the spud. As a root vegetable, potatoes absorb all of the pesticides, herbicides, and insecticides sprayed above the ground, which eventually spread into the soil. There are many insider testimonies from potato farmers — Jeff Moyer, CEO at the Rodale Institute and former chair of the National Organic Standards Board, says,
I've talked with potato growers who say point-blank they would never eat the potatoes they sell. They have separate plots where they grow potatoes for themselves without all the chemicals.
The potato is a great example of an industrial system gone crazy. Terms like Frankenfoods, fishy tomatoes and assassin seeds are not benign. Imagine, the now defunct DNA Plant Technology of Oakland, California, developed the gene therapy (sic) of inserting a fish gene into a tomato. It was the gene that helps a flounder survive in frigid waters. This "anti-freeze" fish gene was spliced into tomato cells to enhance the plant's resistance to cold.
Monsanto, developers of the glyphosate-based herbicide Roundup, also developed the gene technology to create suicide seeds. Of all wonderfully bad things, they call this technology: Genetic use restriction technology (GURT), but it's more commonly referred to as terminator technology or suicide seeds. This keeps farmers from saving seeds from a Monsanto crop, as the genetic alterations either activate or deactivate some genes only in response to certain stimuli. The second generation of seeds is infertile.
Roundup is what is sprayed all over our Oregon forests when clear cuts raze stands of trees – to keep opportunistic and invasive brush and other tree species, from overtaking the sawed over hills and valleys. (The Intercept)
The history and politics are not lost on people like my Chilean friend — Dow Chemical and Monsanto were the two largest producers of Agent Orange, a fifty-fifty mix of the n-butyl esters 2,4-dichlorophenoxyacetic acid (2,4-D) and 2,4,5-trichlorophenoxyacetic acid (2,4,5-T) known for a long list of neurological symptoms and physiological malformities found not only in those exposed but in their offspring; effects that were denied and ignored by both the manufacturer and the government, for decades.
Industrial Foods
The potato is just one food crop. Every conventionally grown crop contains multiple chemical pesticides and herbicides. There are many groups looking into industrial vegetables and fruits, but they all have their own version of the Dirty Dozen.  The dirty dozen are the twelve most chemically laden fruits and vegetables for that year. These foods should be purchased organic when possible. Here, another group's dirty dozen with some specifics connected to each food.
Apples – at least 99 % have residue
Strawberries – contained 13 different pesticides each
Grapes- contained 15 different pesticides
Celery- 13 different pesticides per sample
Peaches
Spinach
Sweet Bell Peppers
Imported Nectarines – every sample tested positive for pesticides
Cucumbers
Cherry Tomatoes – contained 13 different pesticides each
Imported Snap Peas – contained 13 different pesticides each
Potatoes – had more pesticides by weight than any other food
Remember, there are literally dozens of active ingredients in one type of herbicide. There are hundreds and sometimes thousands of chemicals in a scoop or pint of poison used in industrial agriculture. There are no studies on how any of these chemical interact with each other as they bioaccumulate in the soils, plants, animals or in us. There are no studies on how two, three, or four different chemicals might interact in the lab or in life, let alone 10, 15, or 35 as in the case of the potato. Although industry boasts the safety of these chemicals, no one with a modicum of common sense believes them, unless they choose too. As I walk the wrack line, I cannot help but agreeing with my Chilean friend. The world is insane to believe that it is normal to poison our food.
When we look at what is truly sustainable, the only real model that has worked over long periods of time is the natural world. – Biomimicry Institute founder, Janine Benyus.
To Learn More:
We Need Your Help
More people than ever are reading Hormones Matter, a testament to the need for independent voices in health and medicine. We are not funded and accept limited advertising. Unlike many health sites, we don't force you to purchase a subscription. We believe health information should be open to all. If you read Hormones Matter, like it, please help support it. Contribute now.