Like
What is the Best Diet?
I have been working with tens of thousands of migraine sufferers from all over the world for nearly 8 years. During this time, a great many migraineurs have learned to become migraine free by following nutritional and lifestyle changes, that is, the Stanton Migraine Protocol. The process of recovery starts with understanding the migraineur's health condition prior to implementing any changes. For instance, I request all new members to provide me with a specific list of blood tests.
Over the years I have looked through a tremendous number of blood tests. Two of the standard items on the test list are fasting blood glucose and the lipid panel—a.k.a. cholesterol. More often than not, migraineurs need to entice their doctors to order basic tests because doctors are suspicious of anything their patients initiate.
So, imagine when one of my migraineurs suddenly popped into my Facebook group to post a 7-year-long history of her blood glucose and lipid panel results. What instantly caught my attention was how clearly her stages of dietary changes were documented by her test results: first on the SAD (Standard American Diet), then on a vegan diet, dropping all meat and dairy, and finally on a very strict version of a vegan diet with 80% carbohydrates, 10% protein, and 10% fat. Let me show you what I mean.
Blood Glucose and Cholesterol Refresher
Most people are quite familiar with what cholesterol and blood glucose tests are but there is confusion about what they mean.
Blood glucose is often measured because it is easy to check (even at home) health status about how one's body can handle carbohydrates. Carbohydrates turn to glucose and all plants and their processed derivatives have carbohydrates. So foods such as bread, cereals, pasta, pizza, all fruits, and all vegetables—including salads, beans, and nuts—convert to glucose. Of course, sugar, honey, and any syrups and sweetened drinks all show up as an increase in blood glucose.
The ideal blood glucose range is 70-99 mg/dL at all times, though there is some allowance given for a short period after consuming a meal. It is recommended to never go past 140 mg/dL. Fasting blood glucose, tested on typical laboratory blood tests, is based on 10-12 hours of fasting, meaning not eating anything prior to the test, not even vitamins.
As already mentioned, fasting blood glucose between 70 and 99 mg/dL is healthy; between 100-125 mg/dL is considered to be prediabetic, and 126 mg/dL or over is diabetic (see here).
Cholesterol is a bit more difficult to interpret. The standard lipid panel that is supposed to test cholesterol actually can't give any real information about cholesterol—the test itself lacks the kind of sensitivity that would be able to measure cholesterol.
Cholesterol is a most essential substance in the human body, to the point that if we don't get enough of it from our food, we make what we need on our own. Since Wikipedia has a great description of everything you ever wanted to know about cholesterol, I only discuss the very basics here.
Cholesterol is a waxy substance that gives integrity to cellular membranes, is the building block of our hormones, and also makes up a very large part of our brain. Over 25% of all the cholesterol in your body is in your brain (see here), which together with fat take up over 65% of the brain (see here).
In the lipid panel blood tests we can distinguish several elements: HDL, LDL, Triglycerides, Total cholesterol, and often some residual factors.
HDL: not cholesterol but a lipoprotein ball—a vessel, which contains cholesterol that it picks up from cellular activities. It is the "cholesterol recycler" and so it is known as the "good cholesterol" even though it is not cholesterol.
LDL: not cholesterol but also a lipoprotein ball—a vessel, which carries cholesterol to cells for support. In addition to cholesterol, it also carries triglycerides, and all fat-soluble vitamins, such as vitamin A, vitamin E, vitamin D3, and vitamin K2, all of them extremely essential for our health.  LDL is referred to as the "bad cholesterol", though note it carries important fat-soluble vitamins, so it cannot be all that bad.
Triglycerides: not cholesterol but a fatty acid, created by the liver as a form of storage for excess energy we have consumed—converted primarily from excess carbohydrates.
Total cholesterol: this is the sum of the good cholesterol HDL, the bad cholesterol LDL, and one-fifth of the triglycerides. Total cholesterol is not very meaningful, it may be high simply because the good cholesterol is high and so it is often flagged for no reason.
You may have noticed that none of the lipid panel components is really cholesterol, this fact plays a large part in the general confusion about cholesterol.
The current generally accepted guidelines recommend that for optimal health the following should be met:
LDL should be <100 mg/dL.
HDL should be >40 mg/dL for males and >50 for females.
Triglycerides should be <150 mg/dL.
There may be some variations on the above, depending on the laboratory where the tests are done.
From Good to Bad to Ugly
Start: The SAD Diet
Let us now follow the actual test results of our migraine group member through her dietary changes. Her starting test results from (3/10/2014), while she was on the SAD diet, were:
Fasting blood glucose: 90 mg/dL, perfect.
HDL: 67, so way above the minimum recommended, very good.
LDL: 139, slightly higher than recommended.
Triglycerides: 60, well within the recommended range, very good.
Just looking at these data, she was actually quite healthy at this time. The modern cardiovascular risk analysis is based on the triglycerides/HDL value (see here). This only works in mg/dL so if your cholesterol test results are in a different unit, they need to be converted first. The cardiovascular risk is scored as follows:
Ideal 0.6 -< 1
Good 1 -< 2
Barely acceptable 2 -< 3
Heart attack is waiting at the door if > 3
Our migraineur's score was 60/67 = 0.895. As you can see, on the SAD diet her risk score was well within the best score possible. Nevertheless, her doctor—a cardiologist—still recommended a change to a plant-based (vegan) diet, seemingly based on the slightly elevated LDL test result.
Change in Diet
The Vegan Diet #1
It is difficult to not hear and read everywhere today how great the plant-based diet is. In fact, some European countries don't allow children to take animal-based products for their school snacks (see here) and others simply dropped all meat options in the canteens of schools (see here). In the US too (and in 40 other countries), there is "Meatless Monday", and also a huge push elsewhere for increased prices and taxes on meat products referred to as "sin tax".
Vegetarianism and veganism are strongly encouraged in most of the Western world. People assume that they must then be good for health, but is that really so? Or is the benefit of the plant-based diet a myth?
Our migraineur followed her cardiologist's direction to the T. She dropped all meat and dairy, turned vegan… and then… well… her blood test showed something unexpected.
Her first 4-year vegan-period values are as follows:
| | | | | |
| --- | --- | --- | --- | --- |
| Date | HDL | LDL | Triglycerides | CV Risk (triglycerides/HDL) |
| 3/18/2016 | 56 | 113 | 105 | 1.875 |
| 7/20/2016 | 61 | 134 | 103 | 1.688 |
| 10/20/2016 | 64 | 152 | 131 | 2.047 |
| 5/17/2018 | 71 | 162 | 139 | 1.958 |
| 1/10/2019 | 65 | 176 | 119 | 1.831 |
| Average | 63.4 | 147.4 | 119.4 | 1.88 |
Since she started the vegan diet to improve (reduce) her LDL, let's compare her cholesterol results on the SAD diet against the vegan diet for which I averaged the 5 tests:
| | | | | |
| --- | --- | --- | --- | --- |
| Type | HDL | LDL | Triglycerides | CV Risk (triglycerides/HDL) |
| SAD | 67 | 139 | 60 | 0.895 |
| Vegan | 63.4 | 147.4 | 119.4 | 1.88 |
As you can see, every marker that should have gone down (LDL and triglycerides) increased and the one expected to increase (HDL) dropped while following the vegan diet. Her cardiovascular risk score increased and was no longer in the ideal range, though it was still good.
Her fasting blood glucose has also been recorded, and she shared her 5 test results:
| | |
| --- | --- |
| Date | Fasting blood glucose in mg/dL (ideal 70-99 mg/dL) |
| 3/18/2016 | 88 |
| 7/20/2016 | 113 |
| 10/20/2016 | 116 |
| 5/17/2018 | 122 |
| 1/10/2019 | 122 |
| Average | 112.2 |
Her fasting blood glucose increased from the ideal of 90 mg/dL that she had during the SAD diet to prediabetic at 112.2 mg/dL on 4 years of a vegan diet. So her fasting blood glucose too moved exactly opposite of what the doctor was hoping to see.
The Vegan Diet #2
Consequently, the cardiologist told the migraineur that she needed to double down because the markers moved in the undesired direction. So the migraineur restricted her fat and protein to the absolute minimum of 10% each and increased her carbohydrates to 80% of her calories. She followed this extreme vegan way of eating for nearly 3 years religiously. Here are her 5 blood test results for cholesterol this period:
| | | | | |
| --- | --- | --- | --- | --- |
| Date | HDL | LDL | Triglycerides | CV Risk (triglycerides/HDL) |
| 4/25/2019 | 70 | 173 | 111 | 1.586 |
| 5/15/2020 | 42 | 134 | 121 | 2.88 |
| 8/14/2020 | 46 | 134 | 121 | 2.63 |
| 12/4/2020 | 51 | 172 | 155 | 3.039 |
| 3/14/2021 | 52 | 146 | 158 | 3.0385 |
| Average | 52.2 | 151.8 | 133.2 | 2.552 |
So let's compare now her cholesterol on all three diets: the SAD, vegan, and extreme vegan:
| | | | | |
| --- | --- | --- | --- | --- |
| Type | HDL | LDL | Triglycerides | CV Risk (triglycerides/HDL) |
| SAD | 67 | 139 | 60 | 0.895  ideal |
| Vegan | 63.4 | 147.4 | 119.4 | 1.88    good |
| Extreme Vegan | 52.2 | 151.8 | 133.2 | 2.552  barely acceptable |
Wow! Everything was heading in the wrong direction! Her HDL, which should have increased, decreased further after she went nearly fat and protein-free. Her LDL and triglycerides were supposed to decrease but both have increased, extremely so on the extreme vegan diet. But by far the worst news was her cardiovascular risk score, which went from a completely normal level on SAD to approaching serious cardiovascular risk for damage and possible heart attack! And all this happened by switching from an unhealthy SAD diet to a "very healthy" vegan diet???
And what about her blood glucose after she tightened her belt and moved to the extreme vegan diet?
| | |
| --- | --- |
| Date | Fasting blood glucose in mg/dL (ideal 70-99 mg/dL) |
| 4/25/2019 | 128 ==> Diabetic! |
| 5/15/2020 | 104 |
| 8/14/2020 | 111 |
| 12/4/2020 | 115 |
| 3/14/2021 | 124 |
| Average | 116.4 |
Her fasting blood glucose changed from excellent to bad to worse as she changed to the vegan and the extreme vegan diet! From 90 mg/dL to 112.2 mg/dL to 116.4 mg/dL, meaning from healthy to pre-diabetic to worse pre-diabetic (closer to diabetic). In the extreme vegan set of blood tests, she even managed to acquire a clearly diabetic fasting blood glucose value (128 mg/dL) at one point in time.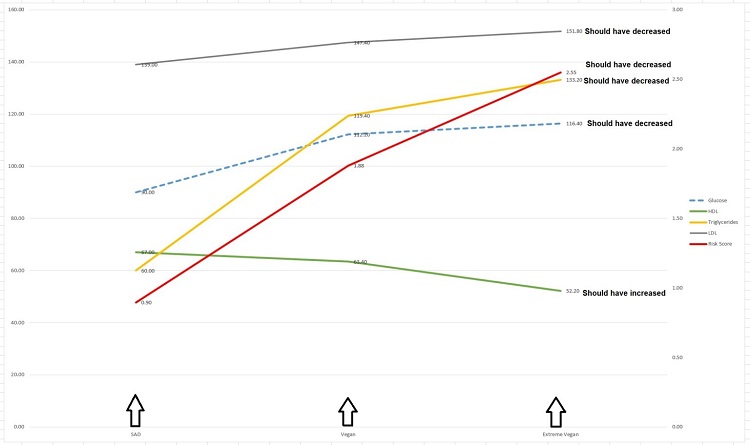 The graph above summarizes the outcome of the three different ways of eating over the seven years of testing.
Over the 7 years of vegan dieting, a completely healthy individual turned into a sick person with type 2 diabetes and the risk of a potential heart attack. And all this on the advice of her cardiologist. Lovely.
Conclusion
This migraineur joined my migraine group a couple of months ago and started the carnivore diet approximately 5 weeks ago. In the migraine group we run a Kraft in Situ mimic test where the migraineur measures blood glucose and blood ketones fasted, pre-meal, and then starting 30 minutes after the last bite of food, the migraineur takes blood samples every 30 minutes for 5 hours. On her first test, shortly after she joined, she showed all the signs of prediabetes. Only a couple of weeks into the carnivore diet her fasting blood glucose was back to normal at 89 mg/dL.
On the carnivore diet, she has cut out all plants and only consumes animal foods high in protein and animal fats. She now eats meat, poultry, fish, seafood, organs, animal fats, dairy, and lots of eggs. The only non-animal foods that those of my group members who are advised to be on the carnivore diet can eat are mushrooms (fungi) and seaweed (algae) as these are not plants.
As for this migraineur, it is too soon to see major improvements in her health after 7 years of serious damage. Her fasting blood glucose is already back to normal and we have yet to see her cholesterol results. Based on my experience of over ten thousand migraineurs in my Facebook migraine groups, and the many blood tests I have seen over the years, the expectation is a complete reversal of her HDL to be high again, triglycerides to be low again, and with that her cardiovascular risk score to drop back to normal. Her LDL will likely increase because it will be carrying lots of fat-soluble vitamins and minerals that are only found in animal products.
I hope that this shows you the importance of eating the appropriate human species foodstuff, which includes—as it always has included during human evolution—lots of animal products. The vegan diet is clearly not the way most people's health will improve. There might be some individuals for whom the vegan diet is harmless, but it is dangerous for the majority of people.
Don't follow a diet because your friends do. Unfortunately, you also have to be skeptical of the advice of many healthcare professionals. Follow the data and how you feel. Eat the way that is healthy for you.
We Need Your Help
More people than ever are reading Hormones Matter, a testament to the need for independent voices in health and medicine. We are not funded and accept limited advertising. Unlike many health sites, we don't force you to purchase a subscription. We believe health information should be open to all. If you read Hormones Matter, and like it, please help support it. Contribute now.
Yes, I would like to support Hormones Matter.
This article was published originally on June 24, 2021.