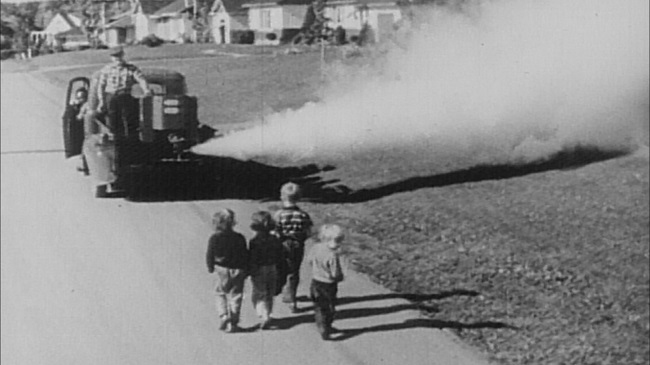 A mated pair of bald eagles twenty yards above me both tip their wings and set a synchronized dive wing-tip to wing-tip toward me. The Willamette River and the Oregon City's Willamette Falls are the sources of interest for these youngsters. The raptors are giving me pause and hope – a certain sanity floods my head seeing things in balance, nature in action over a plugged-up Interstate 205, the gas guzzlers of the elite and the endless serpent of 18-wheelers looking like a monster to these eagles. These birds' orange-yellow beaks and pitch-black body feathers remind me of this big web of life that is continually being disrupted, torn apart, and obliterated by the master species' addiction to oil, chemicals, and industrial-strength-and-sized unnatural interventions.
Over the last few weeks, I have been thinking about Rachel Carson (Silent Spring, 1962) and her efforts to preserve the integrity of natural ecosystems from industrialized greed. I am reminded of all those foggers tooling through neighborhoods with DDT gas spewing out and kids chasing after in the vortex of the poison. Dichlorodiphenyltrichloroethane, synthesized in 1886, was deemed perfectly safe to life and limb by a battalion of scientists and medical impresarios backed by the likes of Monsanto. Carson, a biologist by trade, understood the dangers of these chemicals and fought arduously to inform the public. Through a series of letters and short chapters published first in the New Yorker and then compiled into the now landmark book Silent Spring, Carson's efforts ultimately resulted in the banning of DDT but not before she was thoroughly castigated in the press.
For her robust scientific skepticism of the safety of all those government-approved and scientifically-proven chemicals polluting the landscape, she endured endless personal attacks. For me and countless other ecologists, Carson is the mother of the environmental movement. One such attack demonstrates the misogyny and scientific-technology chauvinism of her time:
Miss Rachel Carson's reference to the selfishness of insecticide manufacturers probably reflects her Communist sympathies, like a lot of our writers these days. We can live without birds and animals, but, as the current market slump shows, we cannot live without business. As for insects, isn't it just like a woman to be scared to death of a few little bugs! As long as we have the H-bomb everything will be O.K.—Letter to the editor of the New Yorker, 1962
Though tame by comparison to the vitriol of 21st century social media attacks, the playbook remains much the same, and sadly, so too are the battles. Fifty years after Rachel Carson felt the sting of the attacks on her character and intellect, we are still fighting against these chemical companies, only now we fight from multiple fronts. The same companies polluting our ecosystem, our rivers, streams, lakes and ground soil, pollute our bodies.
Poisons, and now the slide into poisoned and colonized minds, have taken me from my birth in 1957 to a truly Kafkaesque carnival show of incompetence, perverted power, and inverse logic at all levels of the societal ladder. I questioned the safety of Gardasil and was fired from a non-profit for doing so. My story is all over the internet, and that's fine. See "Social Worker Helping Troubled Teens Loses Job for Questioning Gardasil Vaccine During Planned Parenthood Required Training". This sort of cause célèbre doesn't pay the mortgage and doesn't restore my character and professional standing that have been sullied by the events of recent weeks, but it does, open a door to a perspective once blocked from view.
Call it the Pandora's Box opening up, or the tip of the iceberg surfacing. Since the forced paid leave and then the sacking, I have delved into the nefarious connections between non-profits and their funding agencies. What I found was disturbing and points to a much larger problem, a forced collusion between medical marketing, non-profits, foundations and scientists, a relationship that demands acquiescence or risks the loss of funding. While I have long understood that money influences decision-making, the extent to which profits are blocking questions about medication safety from being asked is unprecedented. The implications are frightening. This collusion is forcing people, cultures and their ecologies to bear the burden of illness, disease, cancers, ecocide and inter-generational hardships because of greed, galvanized through the adoption of a wholly market-driven science.
Amidst this unholy trinity of ideology-economics-politics, I cannot help but wonder, what would Rachel Carson do? She would write, of course. She would write passionately and clearly not to the institutions capitalism is beholden to, but to us, the people most affected by these decisions. I will do the same.
It is common practice among these chemical companies to attack prominent scientists who speak out against their products. This is a well-known part of the chemical industry playbook, dating back to the battles against DDT and refined by the tobacco industry. To censure unknown, low level employees of non-profits, however, speaks to a new level of message control, one, even I, an old journalist, educator and environmental activist, find surprising. I think you will too.
Over the coming weeks, I will publish a series of articles exploring the influence of pharmaceutical funding to non-profits on the messaging and marketing of health related information. As you read these posts, we encourage you to look at your own circumstances and ask yourself how what you know or think you know about a given chemical might be influenced by corporate interests. If you work at non-profit tasked with disseminating health or environmental information, how are questions of efficacy and product safety dealt with? Are there certain topics that cannot be broached, even by lower level employees? Has anyone been terminated for asking the wrong questions? Then ask yourself, "What would Rachel Carson do?" and consider sharing your story with us.
We Need Your Help
More people than ever are reading Hormones Matter, a testament to the need for independent voices in health and medicine. We are not funded and accept limited advertising. Unlike many health sites, we don't force you to purchase a subscription. We believe health information should be open to all. If you read Hormones Matter, like it, please help support it. Contribute now.
Yes, I would like to support Hormones Matter. 
This article was published originally on November 7, 2017.